Situated in the heart of the French Quarter on St. Peter Street, the Preservation Hall venue presents intimate, acoustic New Orleans Jazz concerts over 360 nights a year featuring ensembles from a current collective of 50+ local master practitioners. On any given night, audiences bear joyful witness to the evolution of this venerable and living tradition.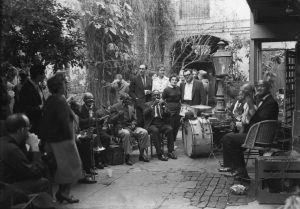 The story of Preservation Hall dates back to the 1950s at Associated Artists, a small art gallery at 726 St. Peter Street in New Orleans' French Quarter. Upon opening the gallery the proprietor Larry Borenstein found that it curtailed his ability to attend the few remaining local jazz concerts, and began inviting these musicians to perform "rehearsal sessions" in the gallery itself. These sessions featured living legends of New Orleans Jazz – George Lewis, Punch Miller, Sweet Emma Barrett, Billie and De De Pierce, The Humphrey Brothers, and dozens more.
During this period, traditional jazz had taken a backseat in popularity to rock n' roll and bebop, leaving many of these players to work odd jobs. Although concerted efforts by aficionados such as William "Bill" Russell succeeded in recording and documenting this fading artform during the "New Orleans Jazz Revival" of the 1940s, venues that offered live New Orleans jazz were few and far between. Before long, Borenstein's sessions took on a life of their own; enthusiasts of the music gravitated toward the gallery, including a young couple from Pennsylvania named Allan and Sandra Jaffe.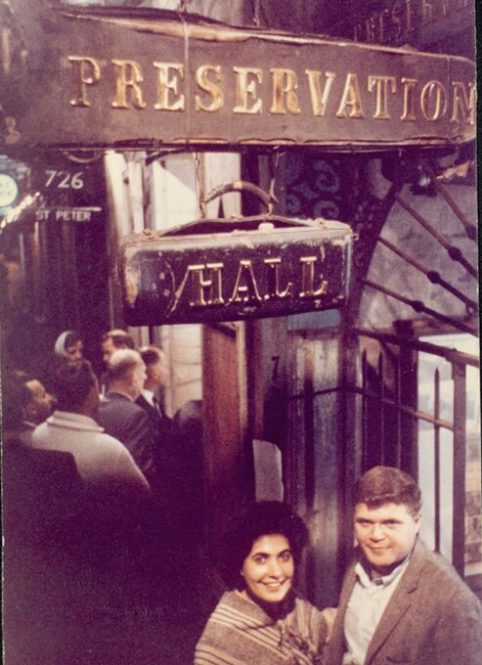 The Jaffes arrived in New Orleans in 1960, on an extended honeymoon from Mexico City. During their visit, they conversed with a few jazz musicians in Jackson Square who were on their way to "Mr. Larry's Gallery." As avid fans of New Orleans jazz, the honeymooners followed the musicians and were introduced to Borenstein along with a number of living jazz greats that had gathered that evening for a jam session. Needless to say, they were enraptured by what they saw and heard. The music was pure and unaffected by the swaying of popular music. Most of these musicians were elderly, many of whom were contemporaries of Buddy Bolden and other early jazz practitioners. The Jaffes knew they happened upon something special and soon after moved to New Orleans permanently.
The jam sessions at 726 St. Peter became much more frequent, so much that Borenstein moved his gallery to the building next door. Performances were held nightly for donations and were organized by a short-lived not-for-profit organization, The New Orleans Society for The Preservation of Traditional Jazz. Shortly after the Jaffes returned to New Orleans, Borenstein passed the nightly operations of the hall to Allan Jaffe on a profit-or-loss basis, and Preservation Hall was born.
Operating as a family business, Preservation Hall supported the unique culture of traditional jazz in New Orleans, which developed in the local melting pot of African, Caribbean, and European musical traditions at the turn of the 20th Century. Preservation Hall was a rare space in the South where racially-integrated bands and audiences shared music together during the Jim Crow era. At the center of that family business, the Jaffe's became involved in the southern Civil Rights Movement (and were apprehended by police on several occasions) as heads of an integrated venue in a time of cruelly-policed racial segregation.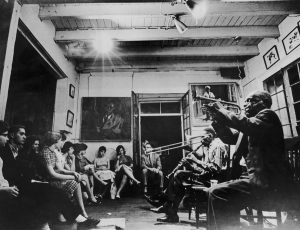 The nightly jazz concerts at Preservation Hall gathered a significant amount of press interest from its inception, first from local media, then a year later from national outlets, such as The New York Times and the Brinkley News Hour. As time went on, Allan believed the success of both the Hall and its mission of preservation would require these bands to tour, and in 1963, he organized the newly minted Preservation Hall Jazz Band for a string of performances in the Midwest.
True to Jaffe's estimation, the tour was a success and interest in the band and the rediscovery of New Orleans music stretched as far as Japan. The following decades found the band traveling and featured on a wide array of performances, from The Filmore West with the Grateful Dead to the palace of the King of Thailand (who sat in on alto sax). Following Allan Jaffe's untimely passing in 1987, Preservation Hall and The Preservation Hall Jazz Band now operate under the leadership of the Jaffe's second son, Benjamin.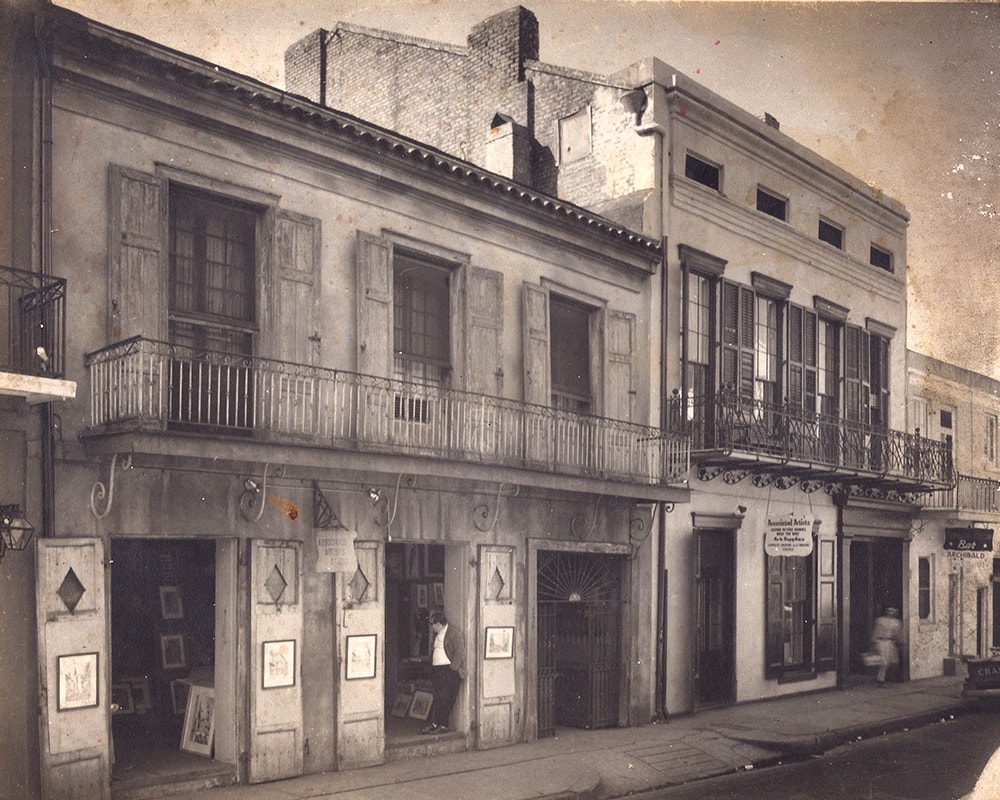 Larry Borenstein at Associated Artists Gallery circa 1960.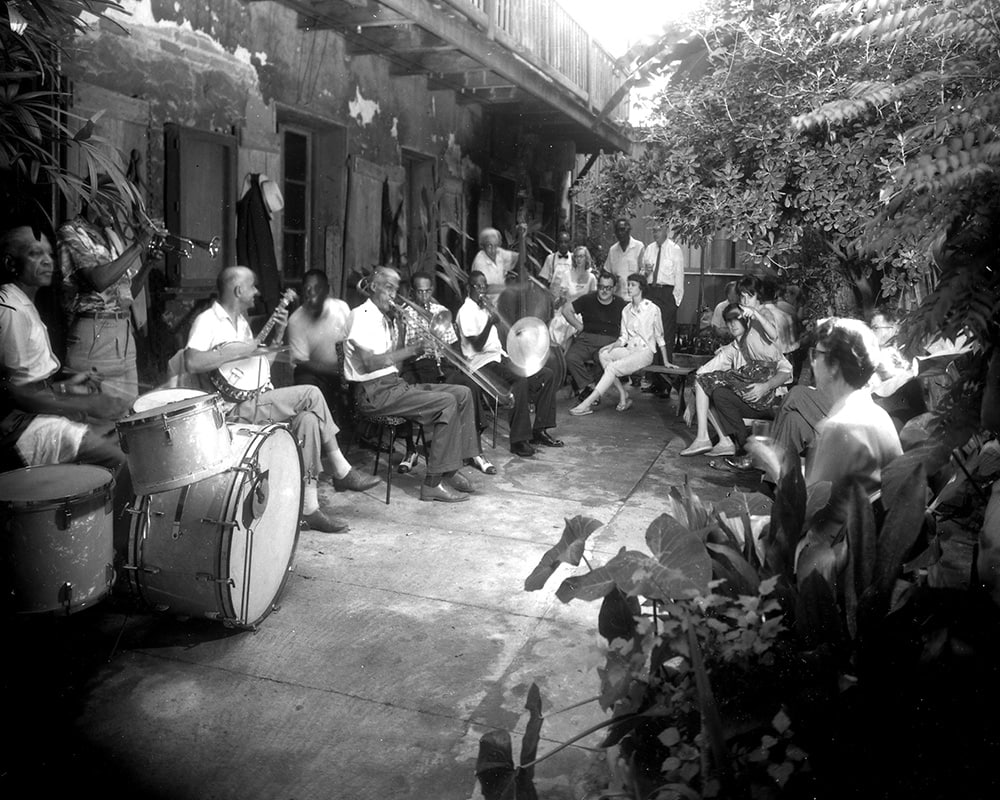 AN EARLY JAM SESSION IN THE COURTYARD AT PRESERVATION HALL, 1960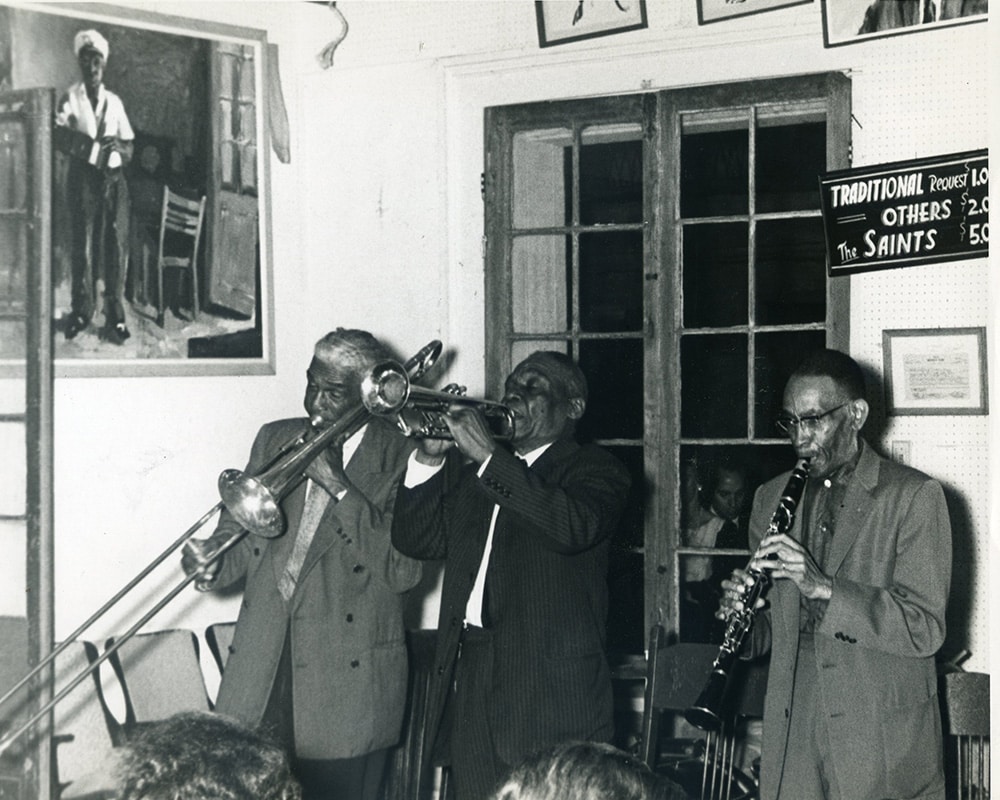 LOUIS NELSON, PUNCH MILLER AND GEORGE LEWIS PERFORMING AT PRESERVATION HALL, 1964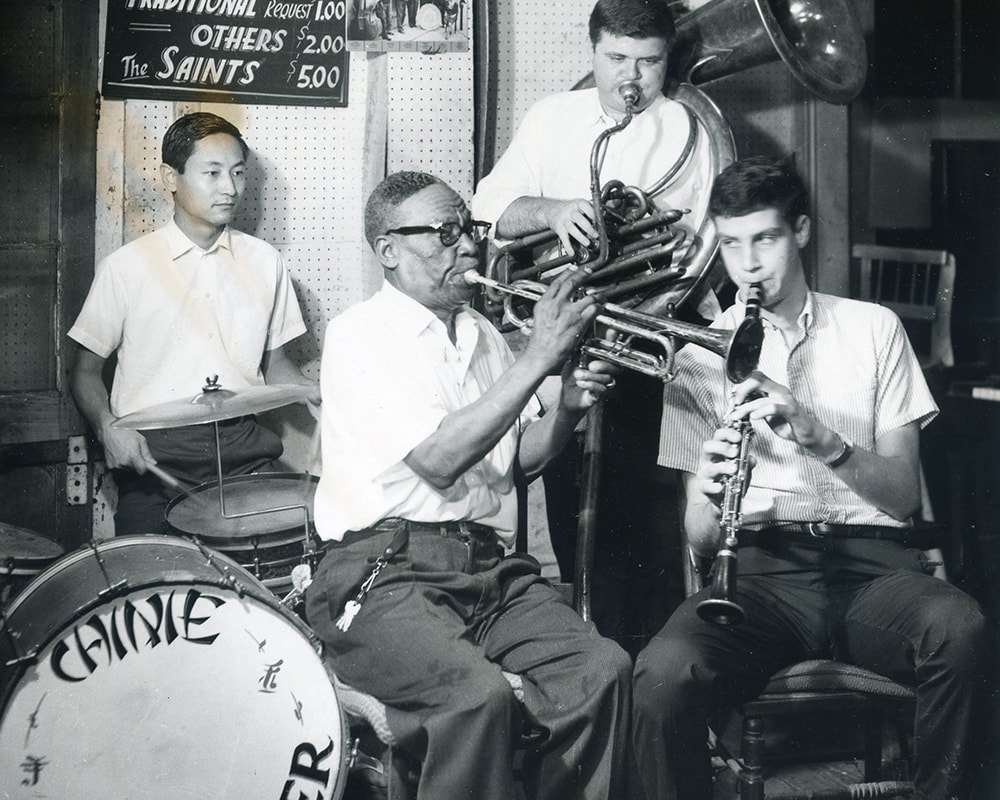 YOICHI KIMURA, PUNCH MILLER, ALLAN JAFFE AND TOM SANCTON, 1967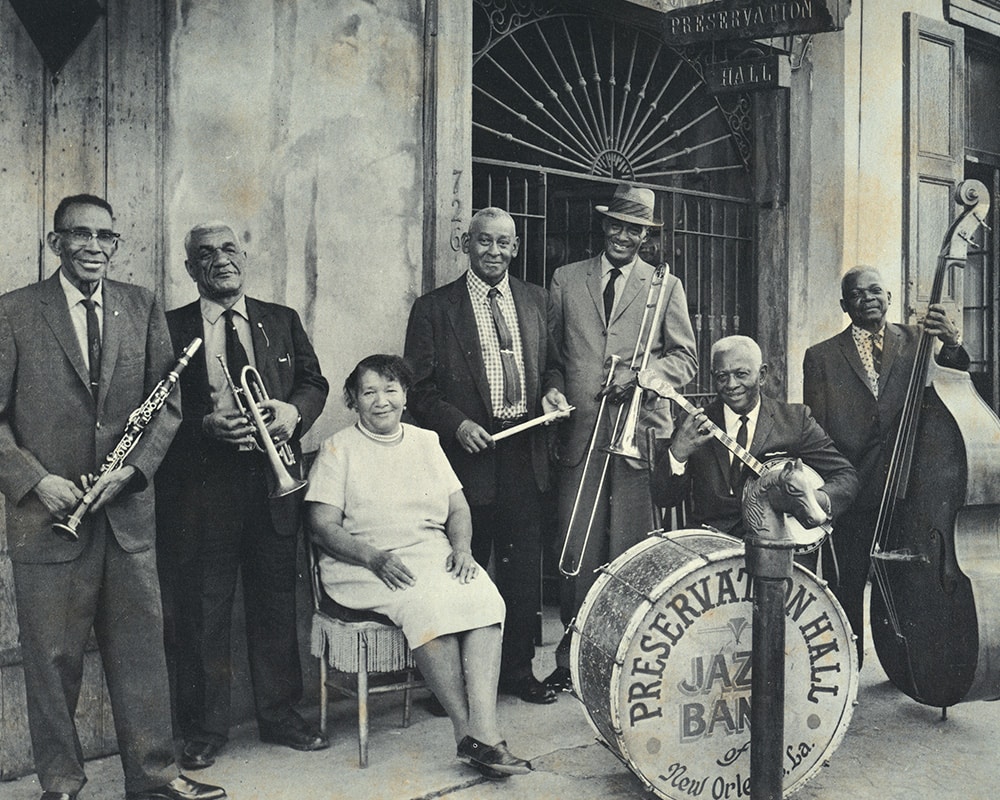 BILLIE AND DE DE PIERCE AND THEIR PRESERVATION HALL JAZZ BAND, 1965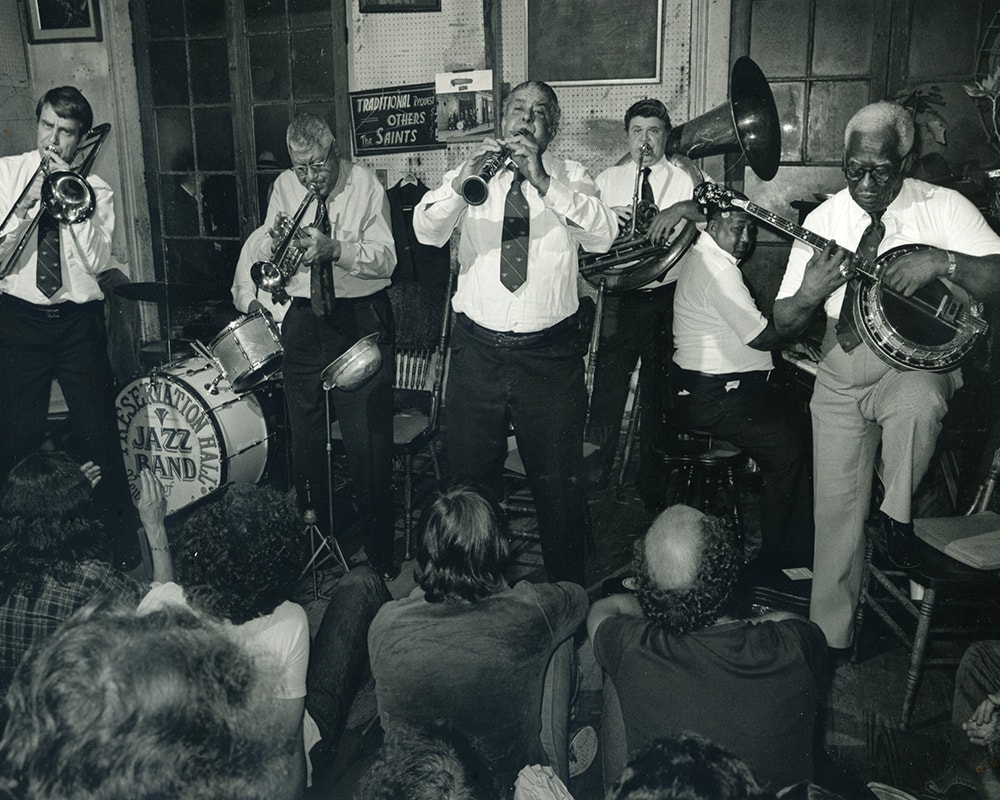 WILLIE AND PERCY HUMPHREY'S BAND AT PRESERVATION HALL, 1975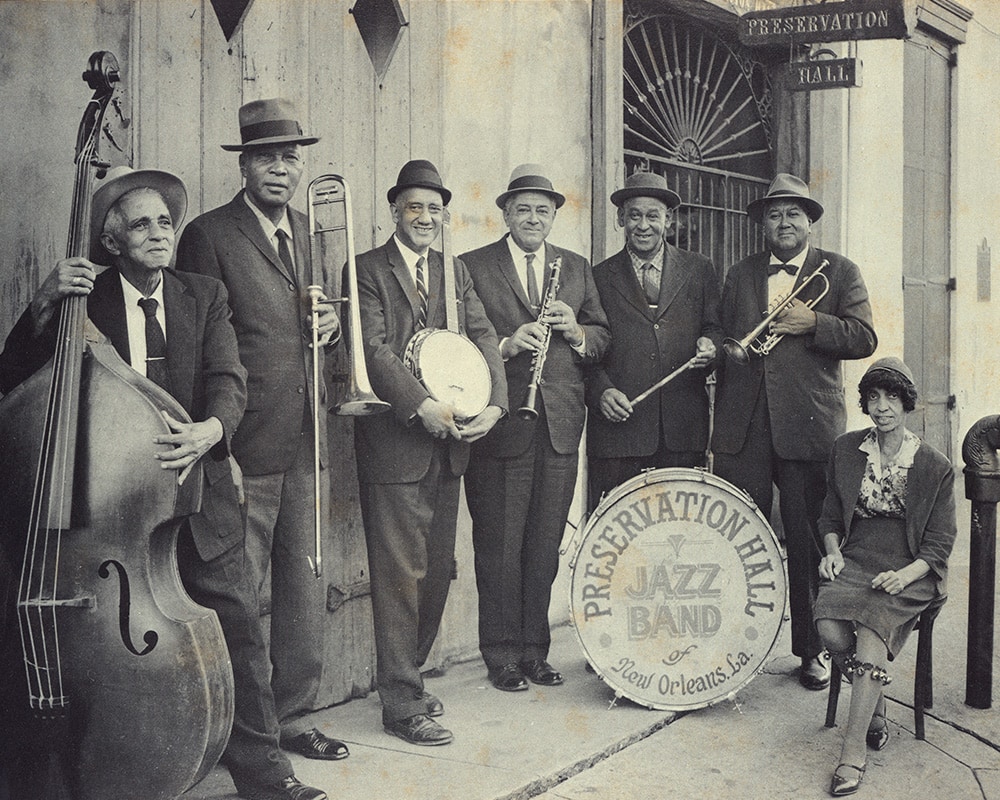 SWEET EMMA BARRETT AND HER PRESERVATION HALL JAZZ BAND, 1964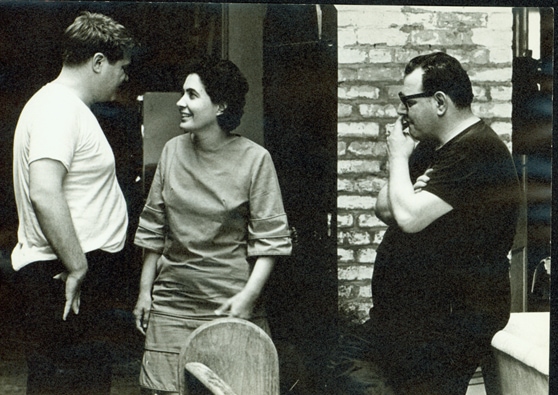 ALLAN JAFFE WITH HIS WIFE SANDRA AND LARRY BORENSTEIN, OWNER OF THE BUILDING AT 726 ST. PETER STREET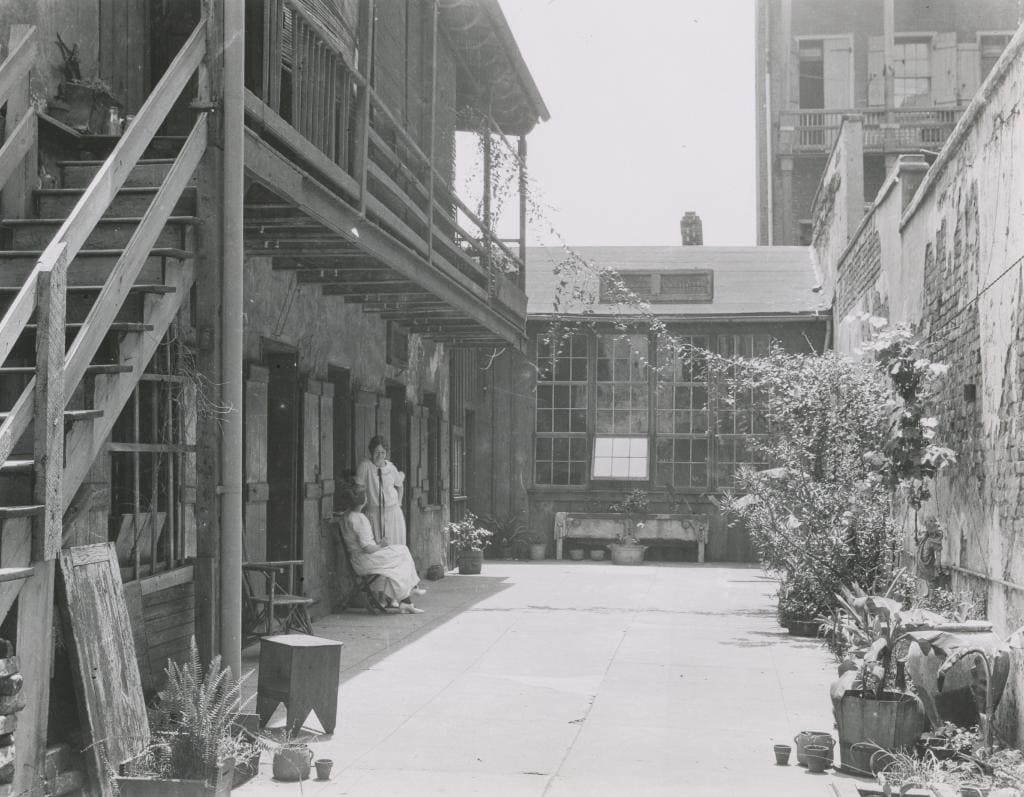 THE COURTYARD AT 726 ST. PETER STREET BY PHOTOGRAPHER POPS WHITESELL, 1920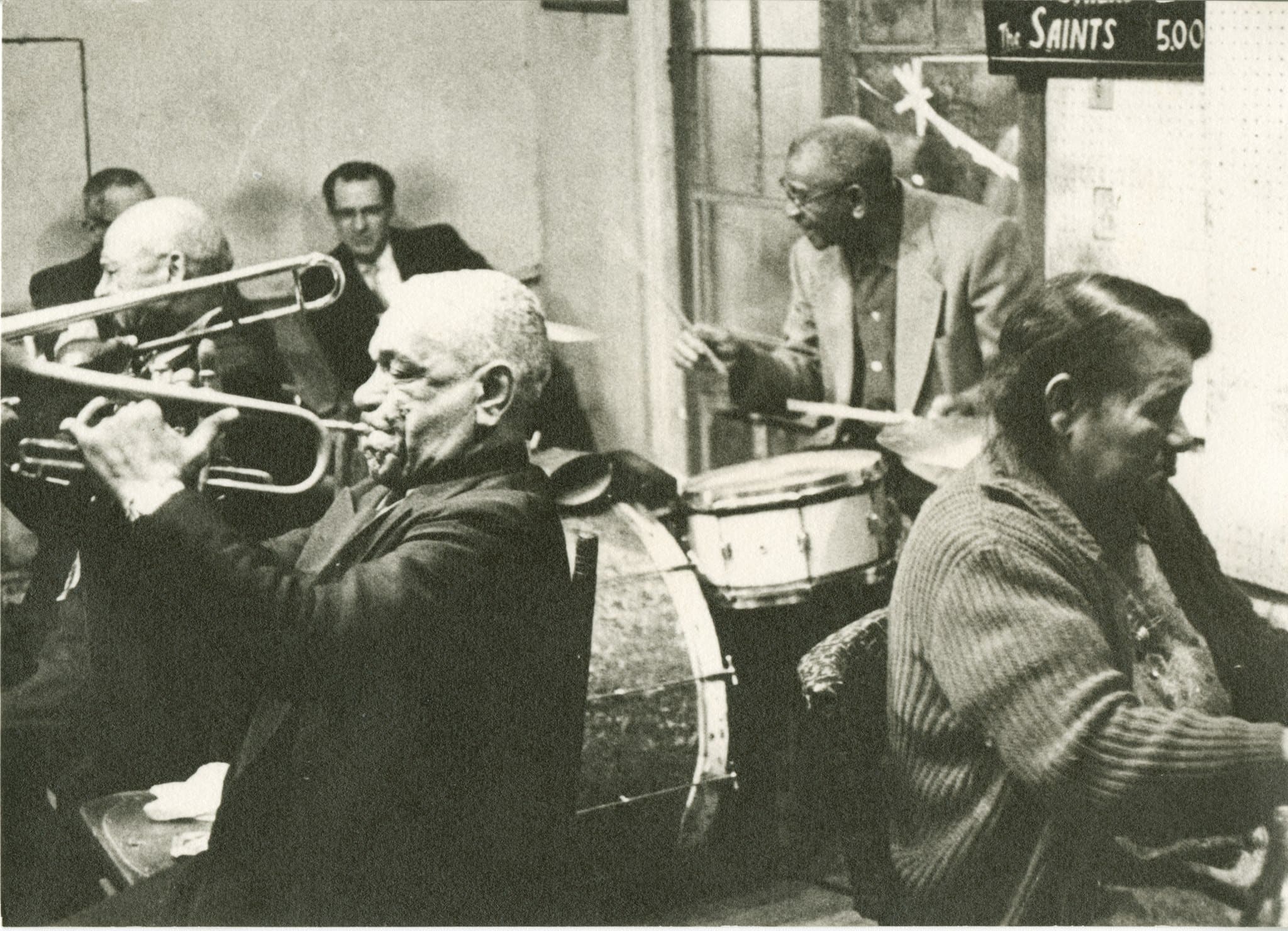 DE DE PIERCE AND HIS WIFE, BILLIE PIERCE PERFORMING AT PRESERVATION HALL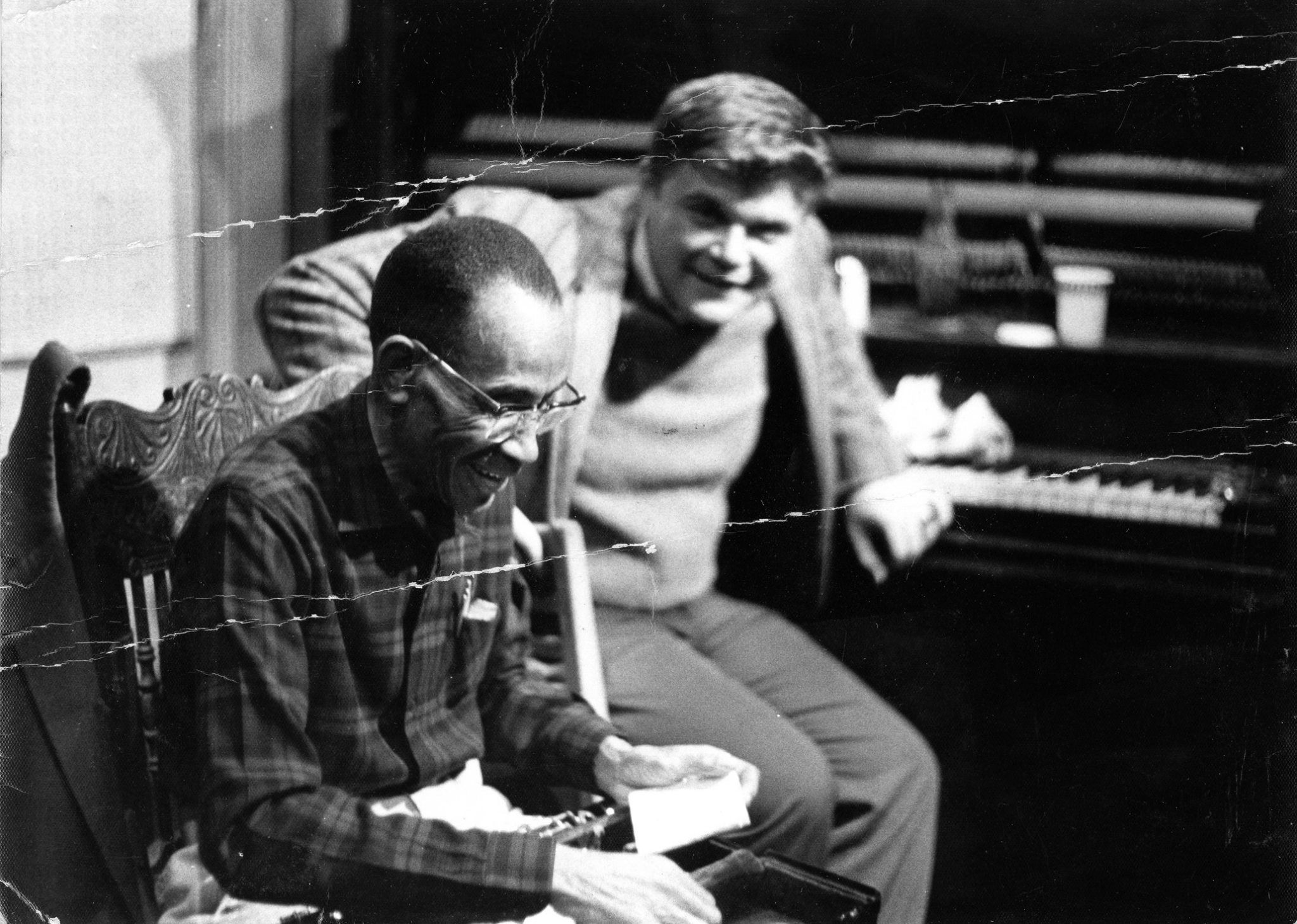 GEORGE LEWIS AND ALLAN JAFFE, 1960s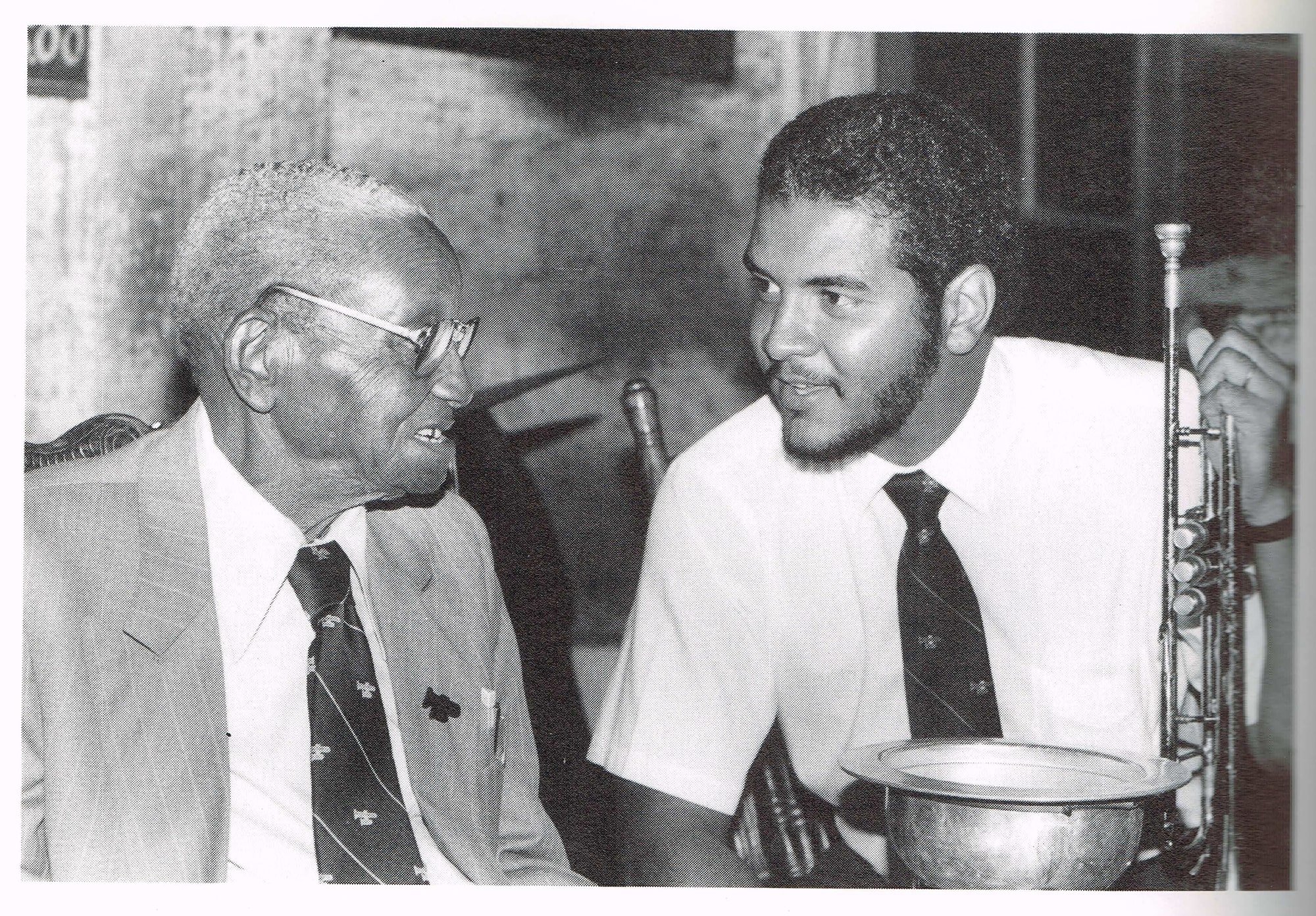 TRUMPETER KID THOMAS VALENTINE WITH A YOUNG WENDELL BRUNIOUS, 1980s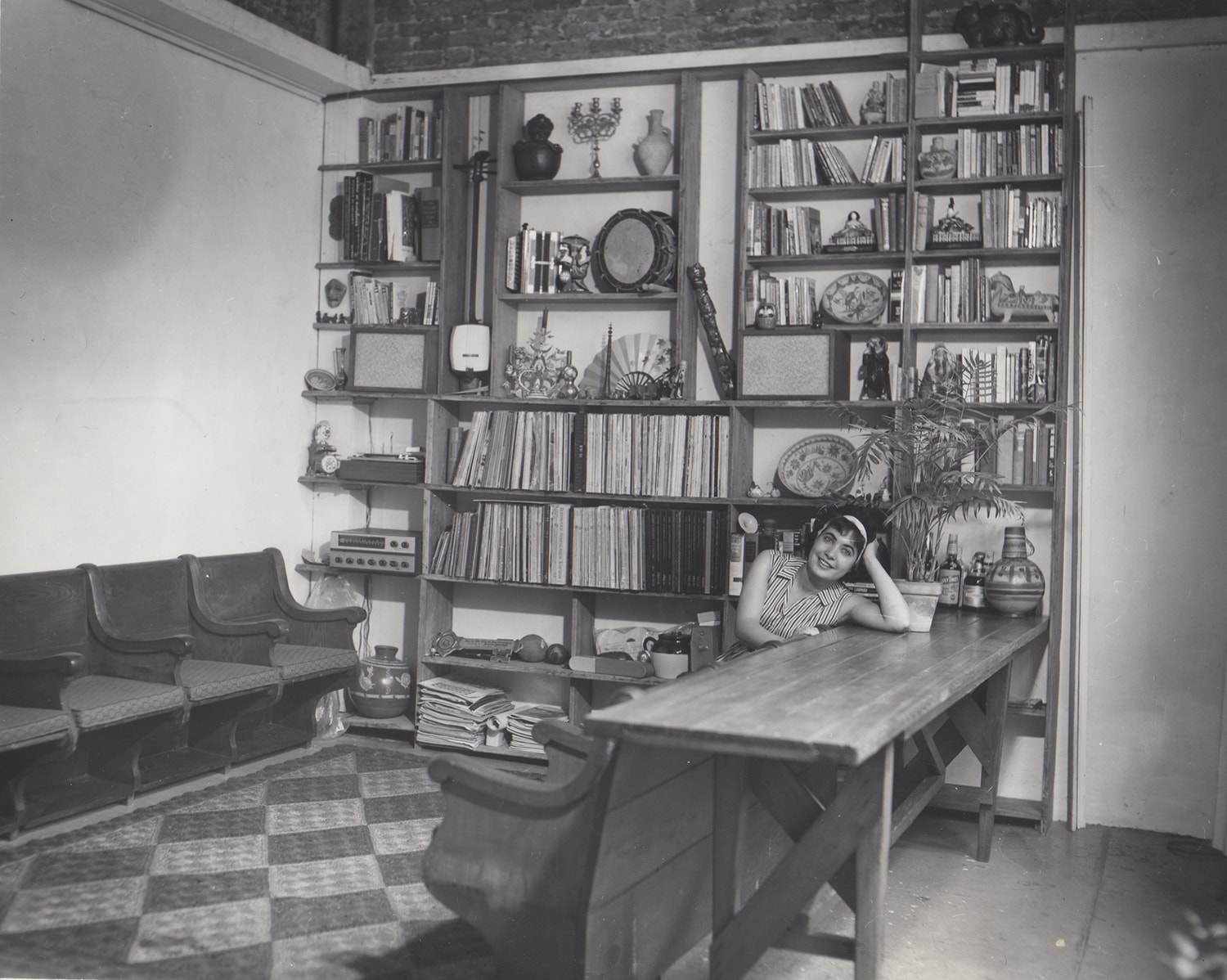 SANDRA JAFFE IN THE REAR BUILDING OF PRESERVATION HALL, EARLY 1960s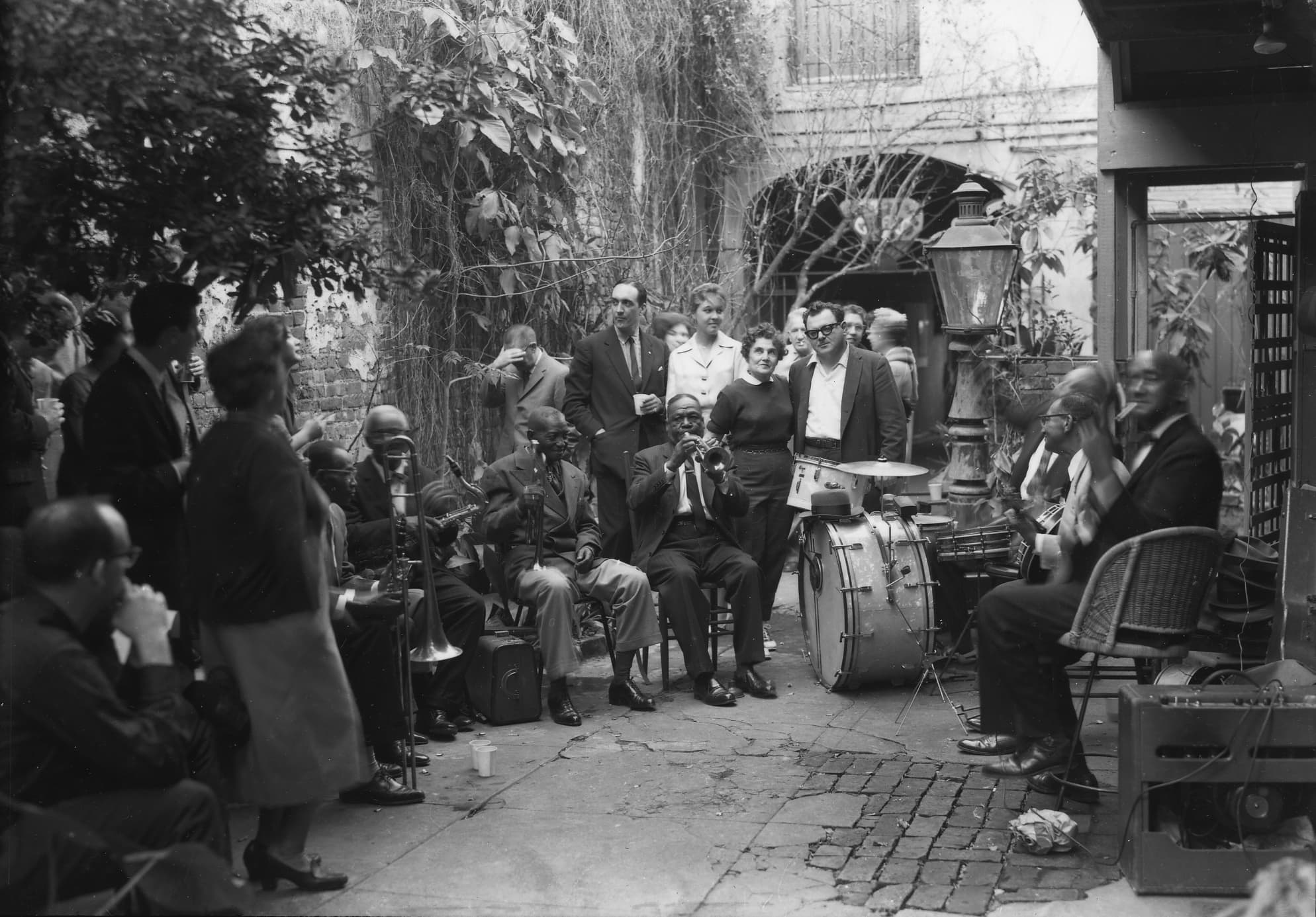 AN EARLY COURTYARD JAM AT 726 ST. PETER WITH BUILDING OWNER LARRY BORENSTEIN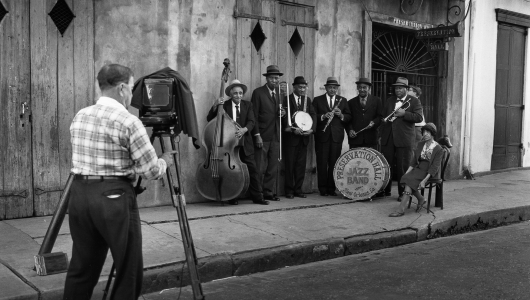 DAN LEYRER PHOTOGRAPHING SWEET EMMA BARRETT AND HER PRESERVATION HALL JAZZ BAND, 1964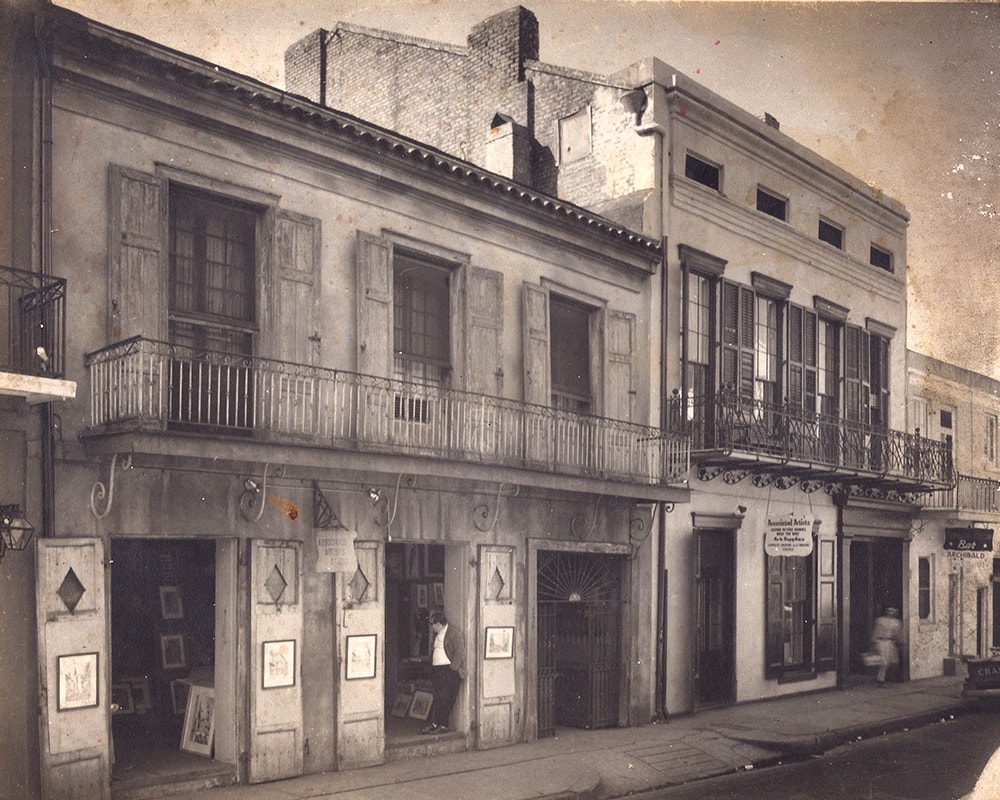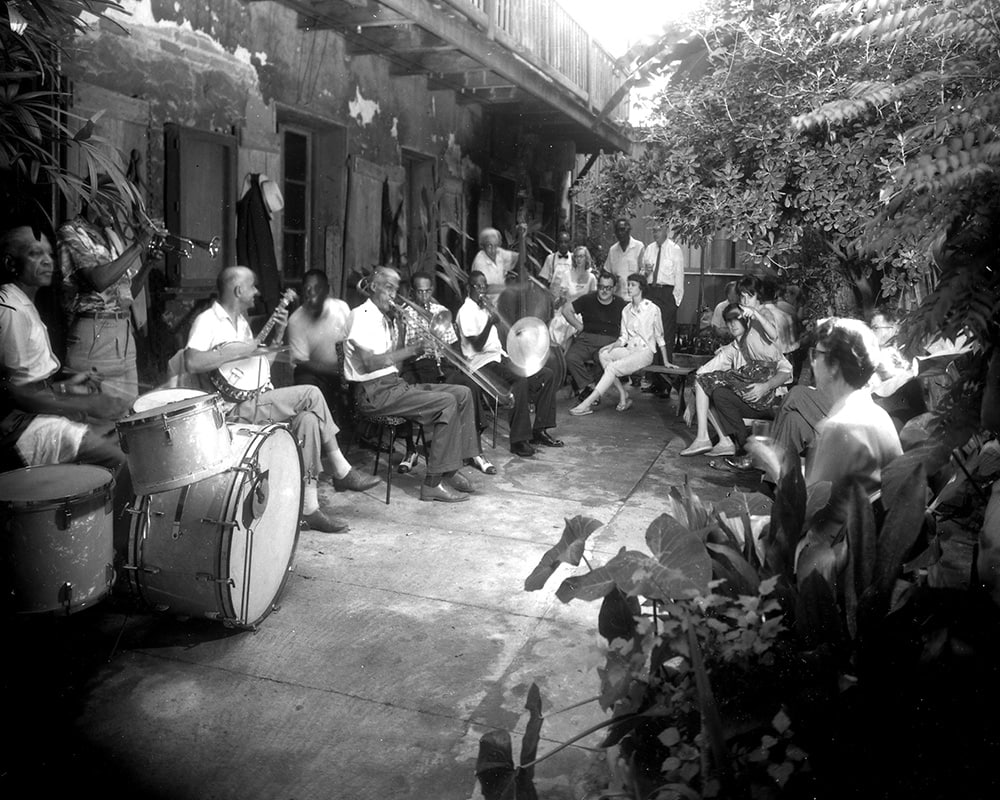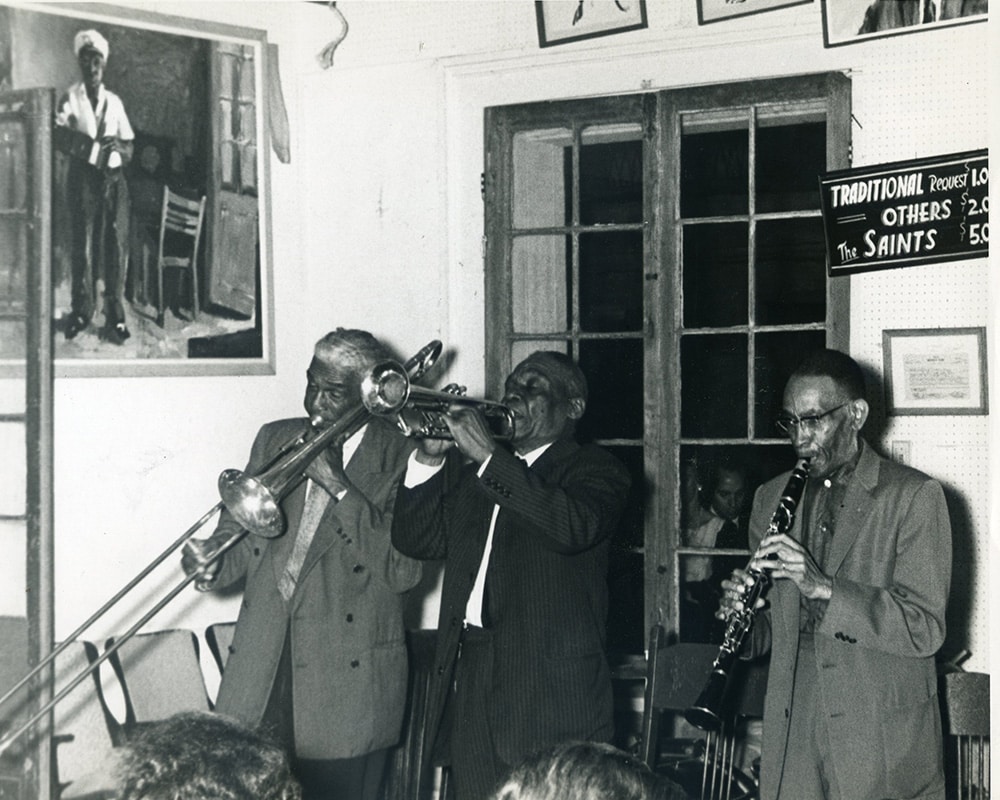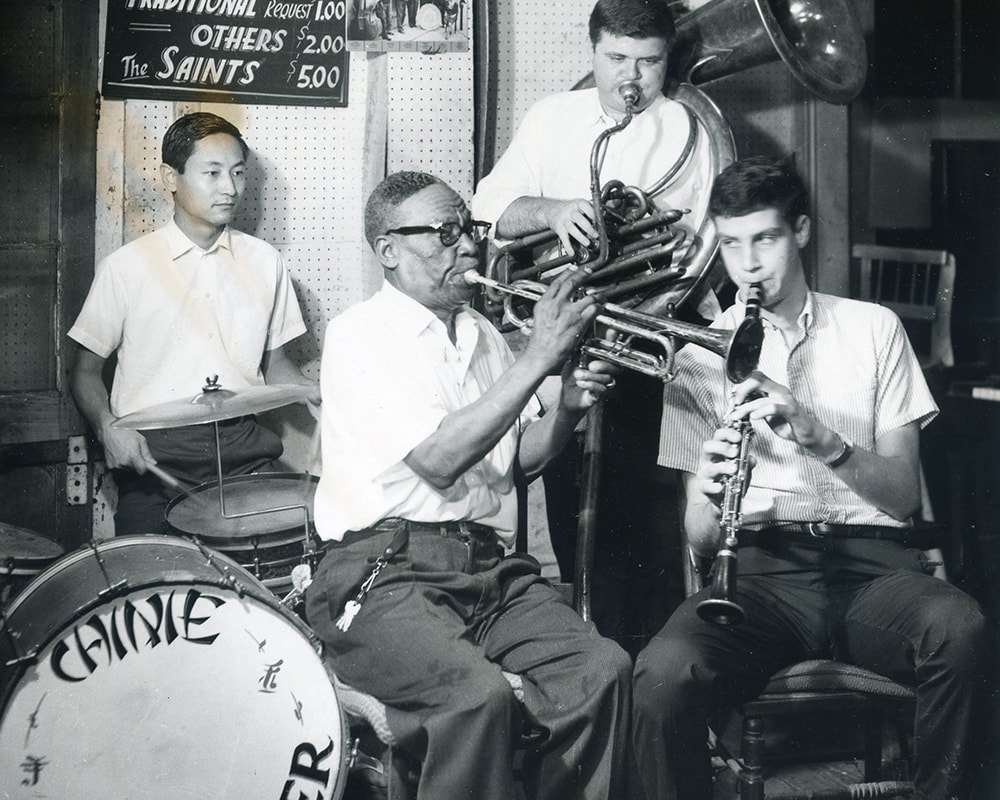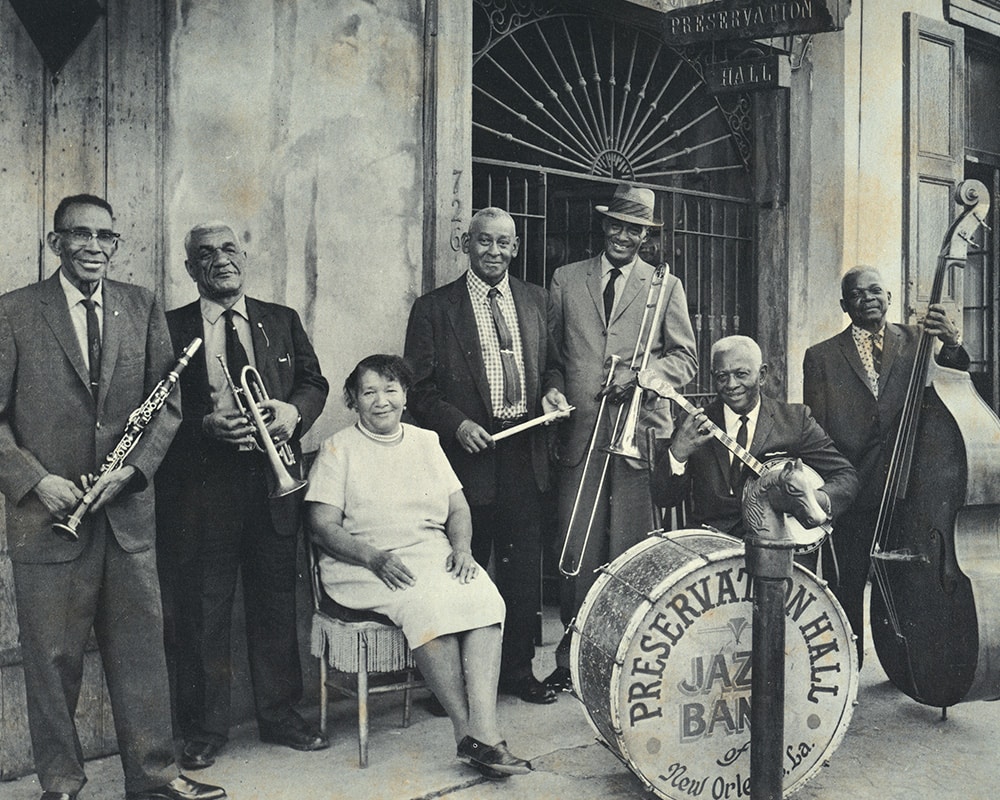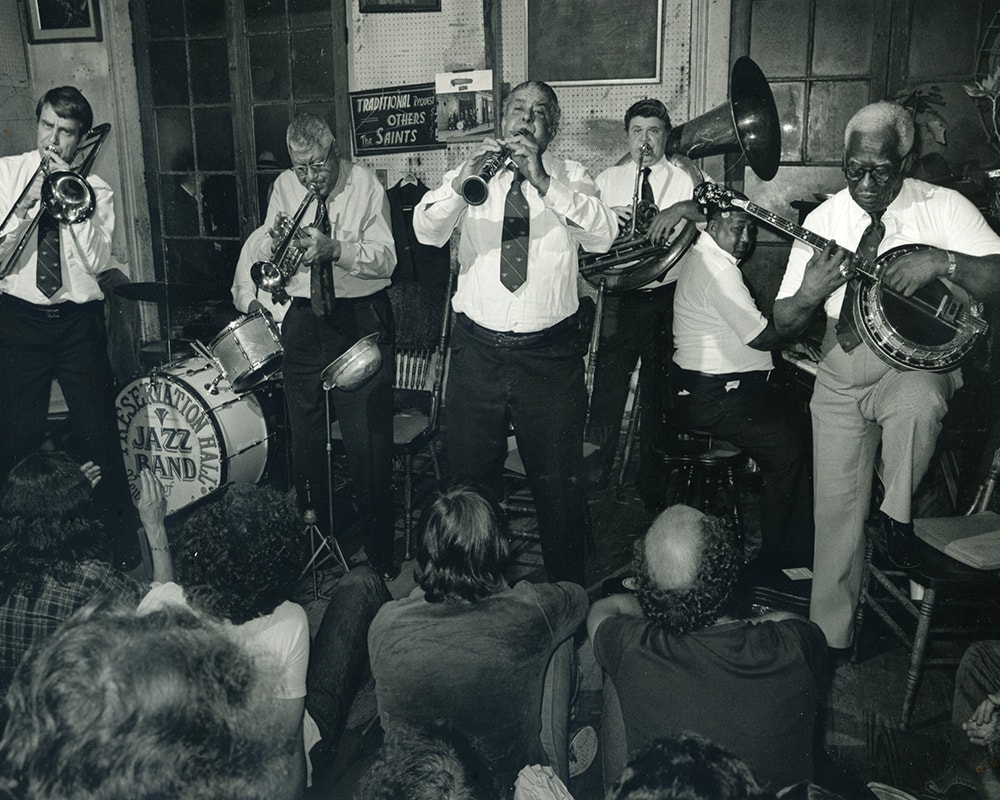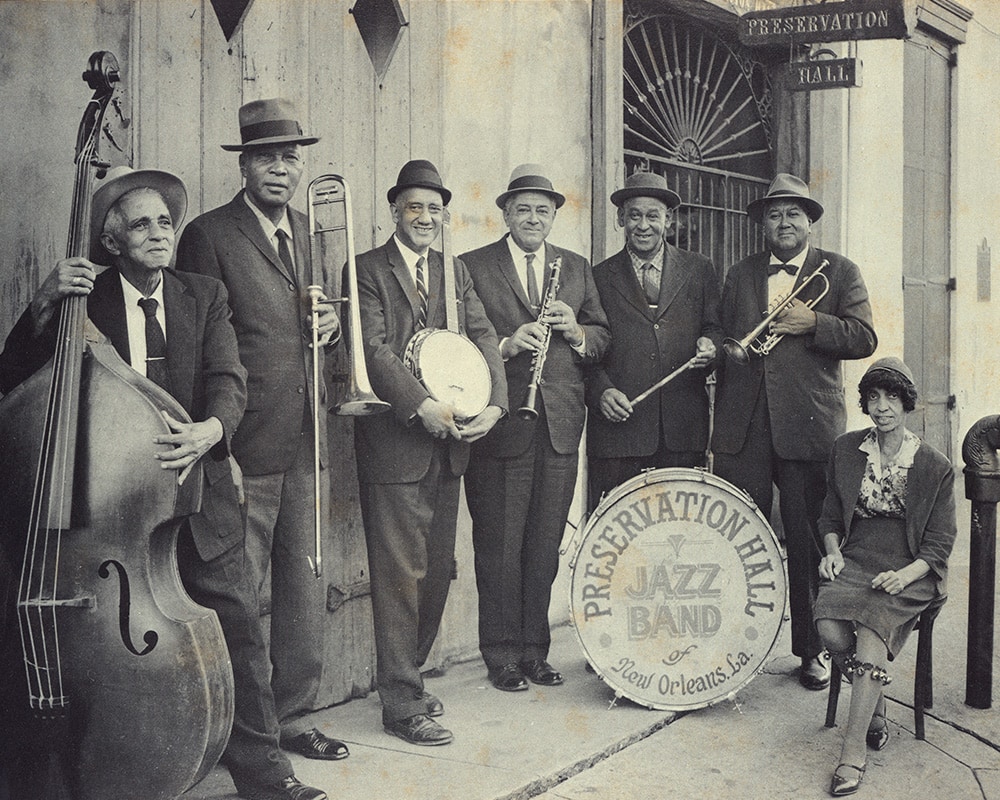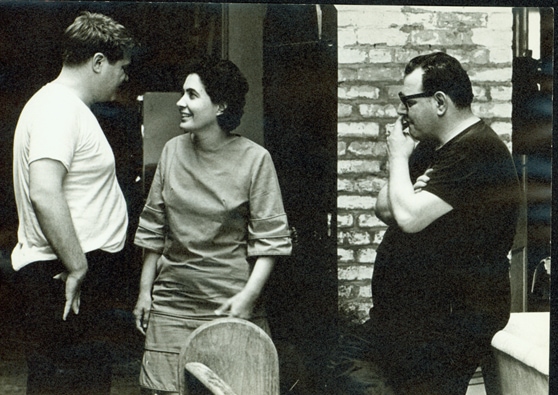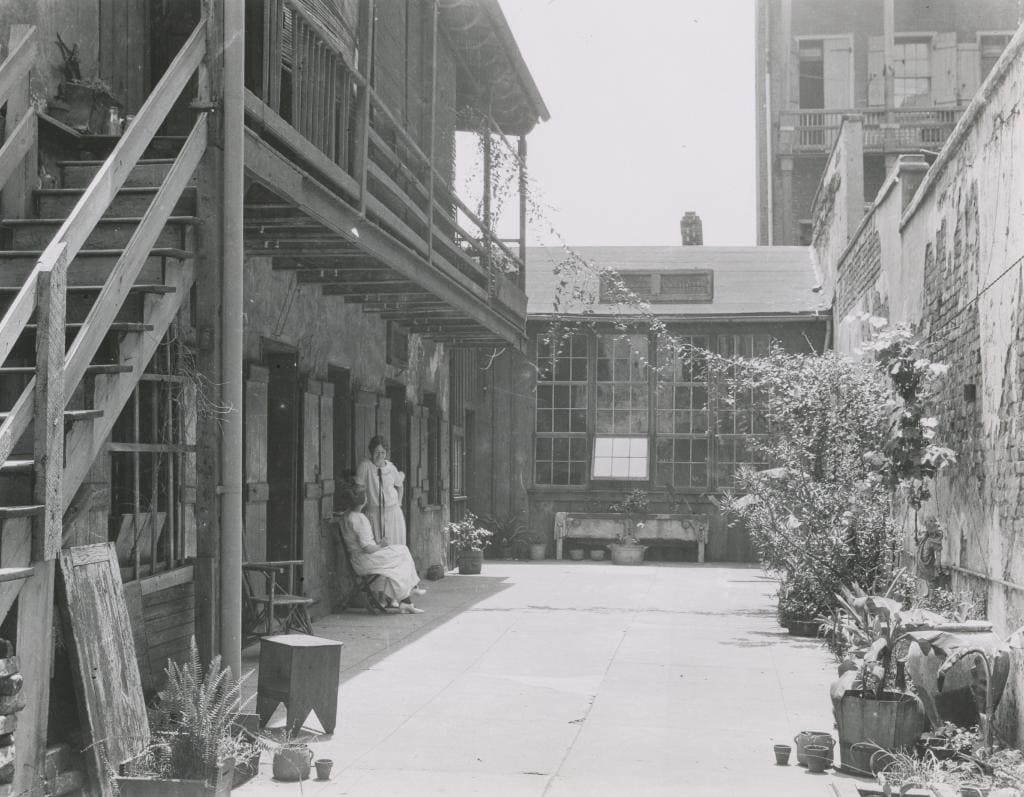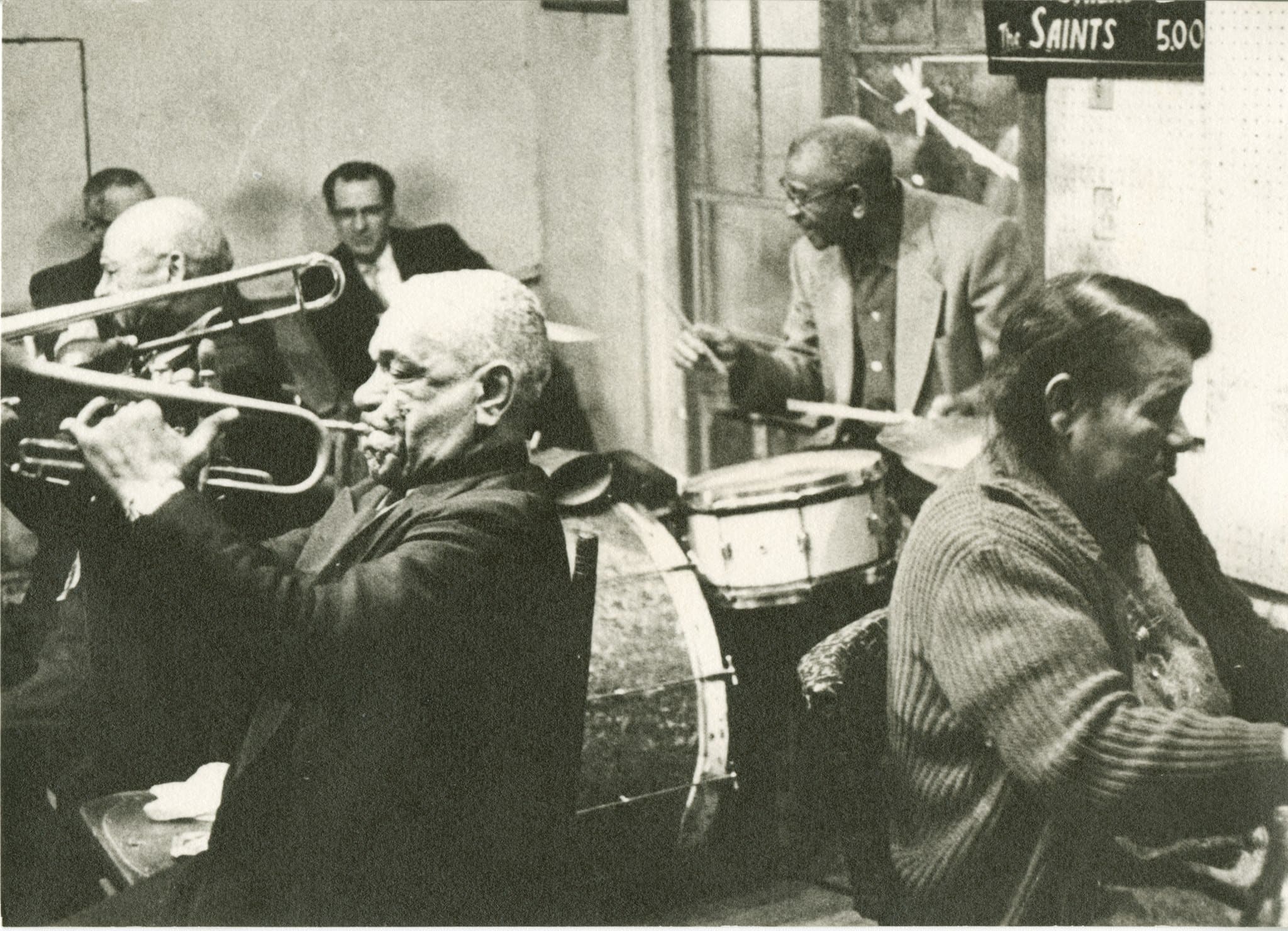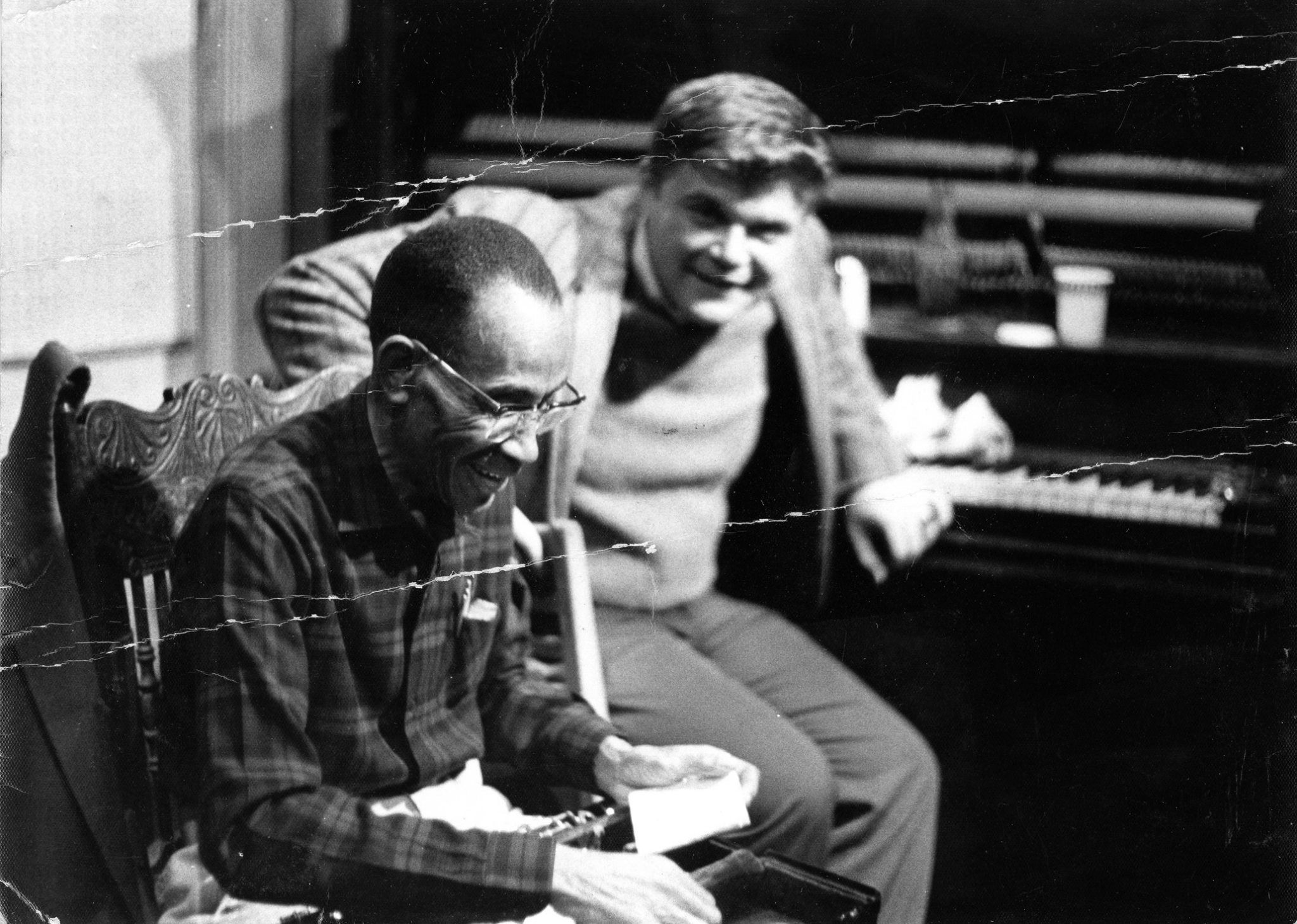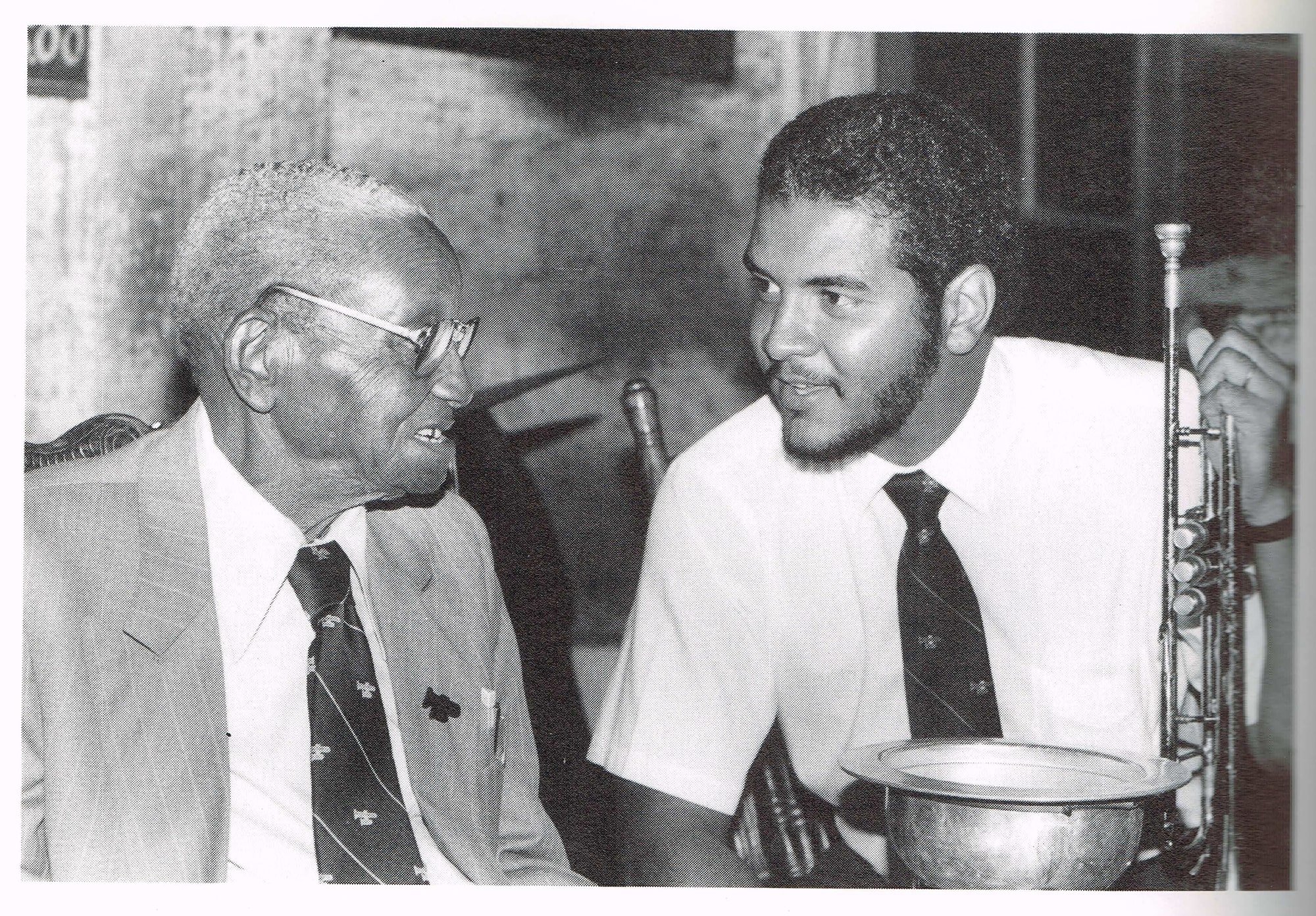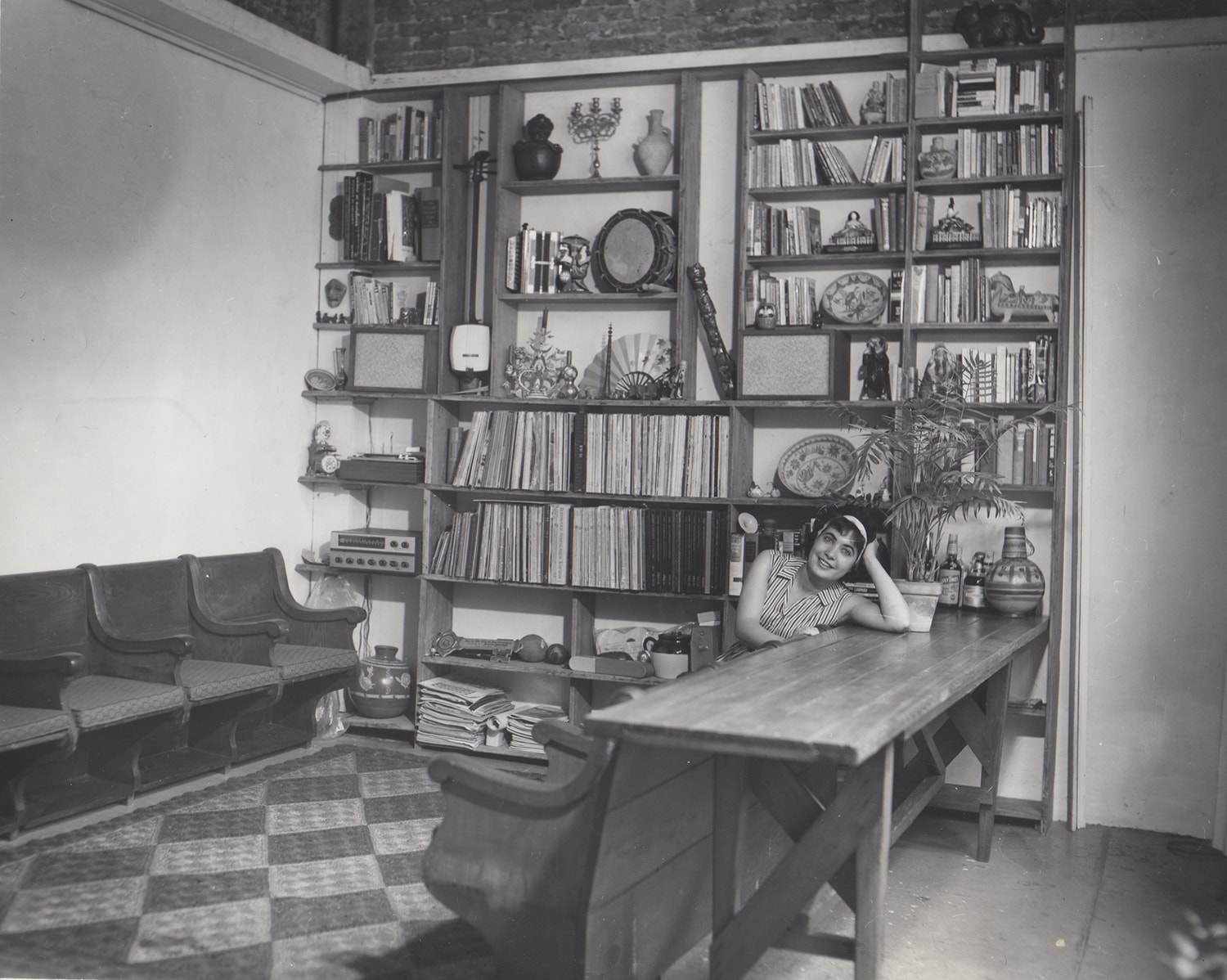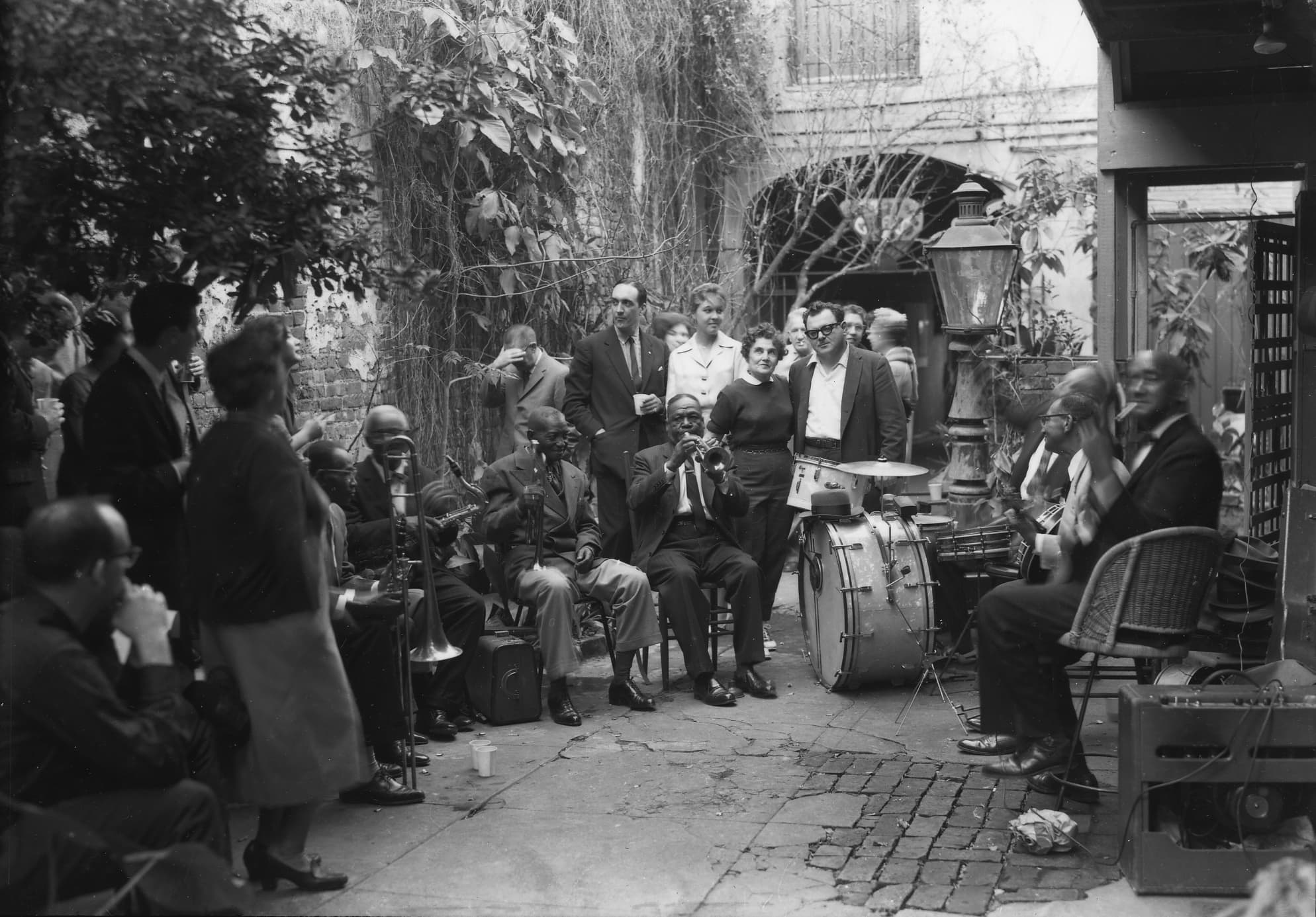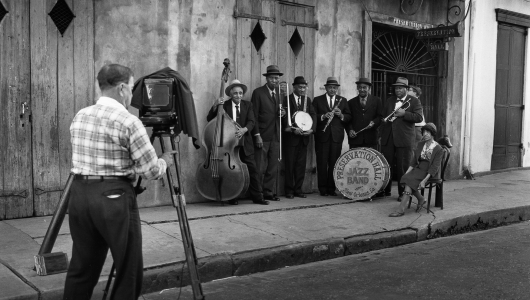 Preservation Hall presents intimate, acoustic concerts featuring bands made up from a current collective of 60 masters of traditional New Orleans Jazz. These musicians have learned the traditional style from the greats who played before them, and are now working to pass it on themselves.
There is no audition process to play at Preservation Hall. While many of our musicians are related to the original players by lineage, they are all connected through sheer power of tradition.
Without further ado, please meet a few of the bandleaders and ensembles of Preservation Hall.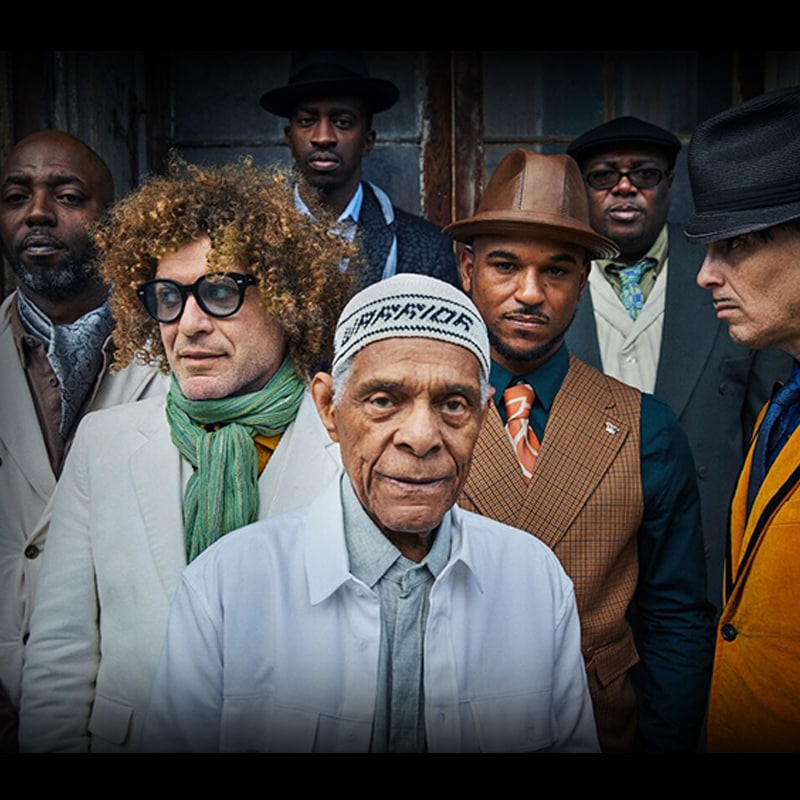 PRESERVATION HALL JAZZ BAND
At a moment when musical streams are crossing with unprecedented frequency, it's crucial to remember that throughout its history, New Orleans has been the point at which sounds and cultures from around the world converge, mingle, and resurface, transformed by the Crescent City's inimitable spirit and joie de vivre. Nowhere is that idea more vividly embodied than in the Preservation Hall Jazz Band, which has held the torch of New Orleans music aloft for more than 50 years, all the while carrying it enthusiastically forward as a reminder that the history they were founded to preserve is a vibrantly living history.
PHJB marches that tradition forward once again on So It Is, the septet's second release featuring all-new original music. The album redefines what New Orleans music means in 2017 by tapping into a sonic continuum that stretches back to the city's Afro-Cuban roots, through its common ancestry with the Afrobeat of Fela Kuti and the Fire Music of Pharoah Sanders and John Coltrane, and forward to cutting-edge artists with whom the PHJB have shared festival stages from Coachella to Newport, including legends like Stevie Wonder, Elvis Costello and the Grateful Dead and modern giants like My Morning Jacket, Arcade Fire and the Black Keys.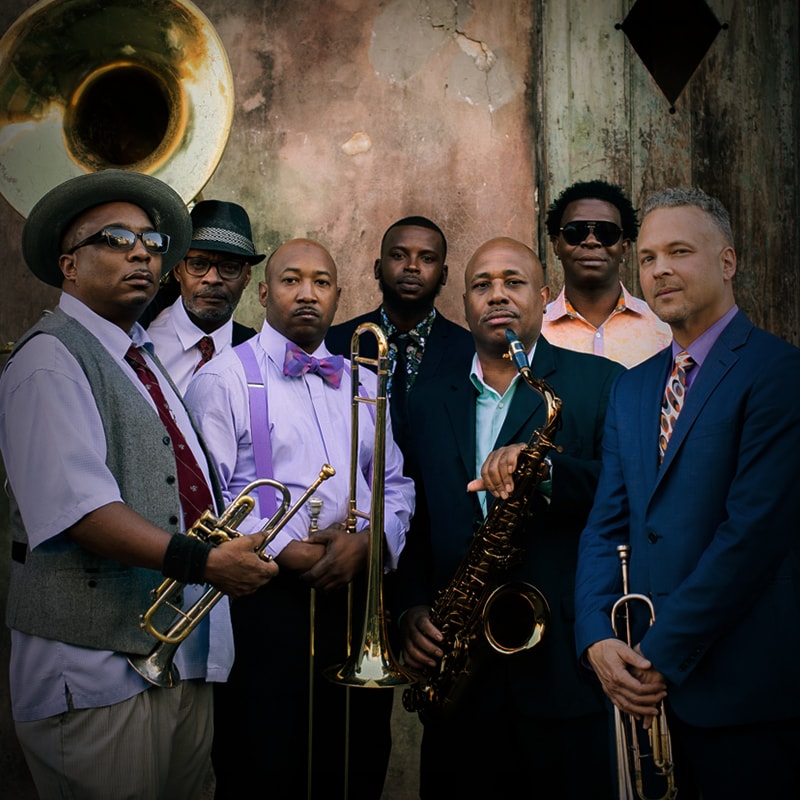 PRESERVATION BRASS
Following in the footsteps of the great Dejan's Olympia Brass Band, The Preservation Brass is the resident brass band of New Orleans most treasured jazz venue, Preservation Hall.  Comprised of members of some of New Orleans' finest brass band performers, this All-Star brass band lineup tours worldwide spreading the musical gospel of New Orleans' unique musical and cultural heritage.  Led by renowned trumpeter Mark Braud, the Brass' repertoire spans from traditional New Orleans classics, spirituals, and the hard-hitting marching tunes heard in New Orleans parades.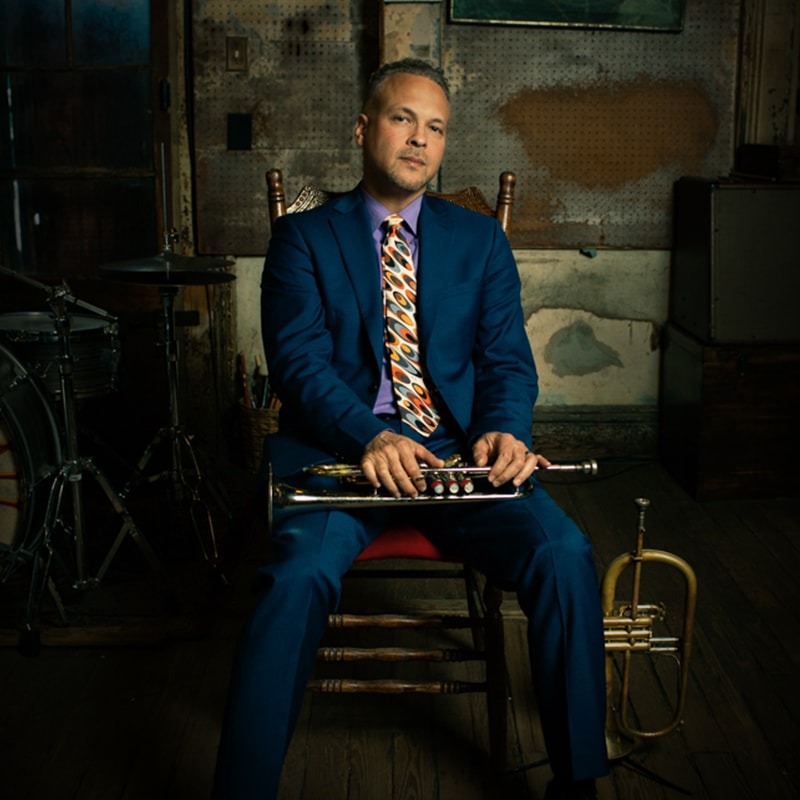 MARK BRAUD
Trumpet
Born in 1973 into the musical Brunious and Santiago families, Mark Braud always wanted to be an entertainer. At age twelve, his uncle Wendell Brunious gave Braud a cornet, and soon after that he began playing jazz with Nicholas Payton. He recalls, "I had always listened to my uncles and my grandfather [composer/trumpeter John 'Picket' Brunious Sr.]. . . . But when I started meeting younger guys who were into music, it was an inspiration for me to play jazz and get more into listening to records." Braud started his career with the Olympia Kids, an offshoot of the Olympia Brass Band for younger musicians, and soon began gigging, recording, and touring with New Orleans legends, including the Original Tuxedo Jazz Band, Eddie Bo, Henry Butler, Harry Connick Jr., and Dr. Michael White. 
Braud began playing at the Hall when he was thirty-four, and he says a lot of people comment on how young he is. "But at some point," says Braud, "all the other guys were young, too." Still, the talk around the Hall is that Braud has filled his uncle John's spot with the grace of a much older gentleman. He even tells "old man jokes." Hall director Ben Jaffe notes, "His uncles, Wendell Brunious and the late John Brunious, were both leaders of the Preservation Hall Band. . . . Mark recorded a wonderful tribute to his grandfather, 'Hot Sausage Rag,' a compilation of his grandfather's compositions."
WENDELL BRUNIOUS
Trumpet | Preservation Hall Foundation Master Practitioner
Trumpeter and vocalist Wendell Brunious boasts a towering musical family tree primarily flowered with trumpets. He is the son of trumpet master John "Picket" (or "Picky") Brunious Sr. and Nazimova "Chinee" Santiago, the niece of guitarist/banjoist Willie Santiago.
Brunious believes what's considered the "Brunious sound" all began with his father's influence. "When my father first started to develop as a trumpet player was in an era before amplification, so you had to play loud enough to hear yourself and to be heard in the band. I kind of think that's where what some people call the Brunious sound kind of started. That 'sound' is being able to interpret ballads when you are also trying to hear the actual words coming out of the end of the trumpet. What was important was the tone, playing in tune, and being able to play nice ballads—not just fast stuff. My daddy used to say this: 'If you don't know the melody, you don't know the song. 'Bourbon Street Parade,' 'Paul Barbarin's Second Line,' 'Hold that Tiger' and a million other songs have the same form but what segregates the tunes is the melody."
The talented and dedicated Wendell Brunious credits some of his early development to having worked with the Olympia Brass Band under the direction of his cousin, bandleader/saxophonist Harold Dejan. Extremely knowledgeable in the music's tradition and history, Brunious enjoys sprinkling his conversation with advisory quotes from his father and other artists who have crossed his musical path through his decades-long career.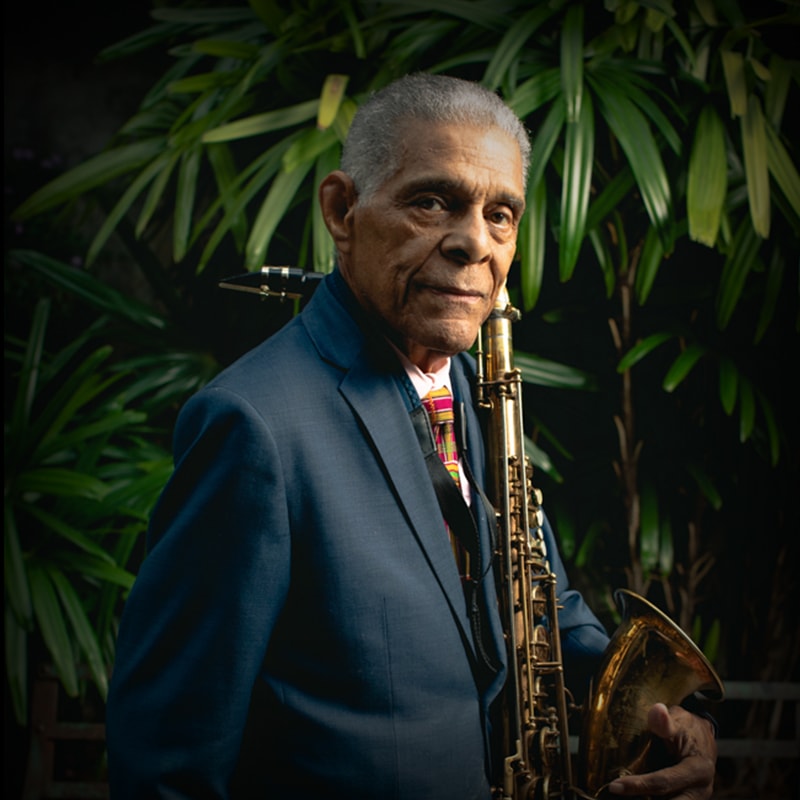 CHARLIE GABRIEL
Clarinet & Saxophone | Preservation Hall Foundation Musical Director
Clarinetist, saxophonist, and flutist Charlie Gabriel is a fourth-generation jazz musician from New Orleans. Raised in a classically trained musical family that emigrated from Santo Domingo in the 1850s, Gabriel began playing clarinet professionally with the Eureka Brass Band when he was eleven years old. During World War II, his father, clarinetist and drummer Martin Manuel "Manny" Gabriel often sent his son as a substitute on gigs. Charlie recalls how the musicians with whom he played —T-Boy Remy, Kid Humphrey, Kid Sheik, Kid Shots, Kid Clayton, and Kid Howard— also raised him and brought him home after the gigs. 
In a career spanning countless genres, Gabriel has performed with Tony Bennett, Frankie Avalon, Brenda Lee, Mary Wells, Eddie Willis, Joe Hunter, and many other early Motown artists. Gabriel sums up the influence of his fellow musicians: "I have many, many people inside of me that I have rubbed shoulders with, and I got something from each one of them. It's all wrapped up inside of me, and by me still playing today and still able to go around the universe, I give to them all these other things I have from those that I have came in contact with."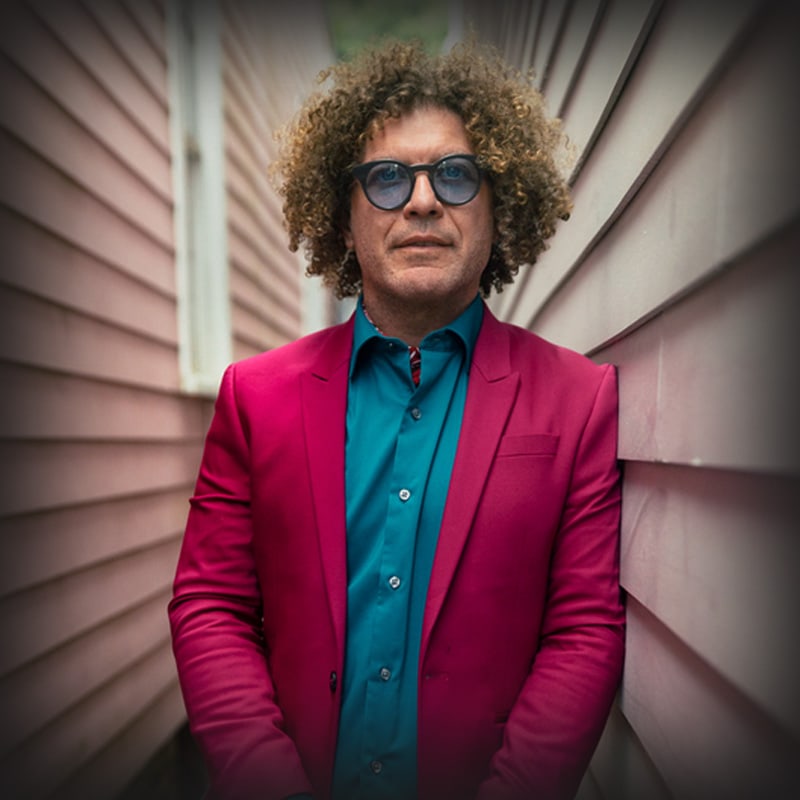 BEN JAFFE
Bass | Creative Director, Preservation Hall Jazz Band
As son of co-founders Allan and Sandra Jaffe, Ben has lived his whole life with the rhythm of the French Quarter pulsing through his veins. Raised in the company of New Orleans' greatest musicians, Ben returned from his collegiate education at Oberlin College in Ohio to play with the group and assume his father's duties as Director of Preservation Hall. Today he serves as Creative Director for both PHJB and the Hall itself, where he has spearheaded such programs as the New Orleans Musicians Hurricane Relief Fund.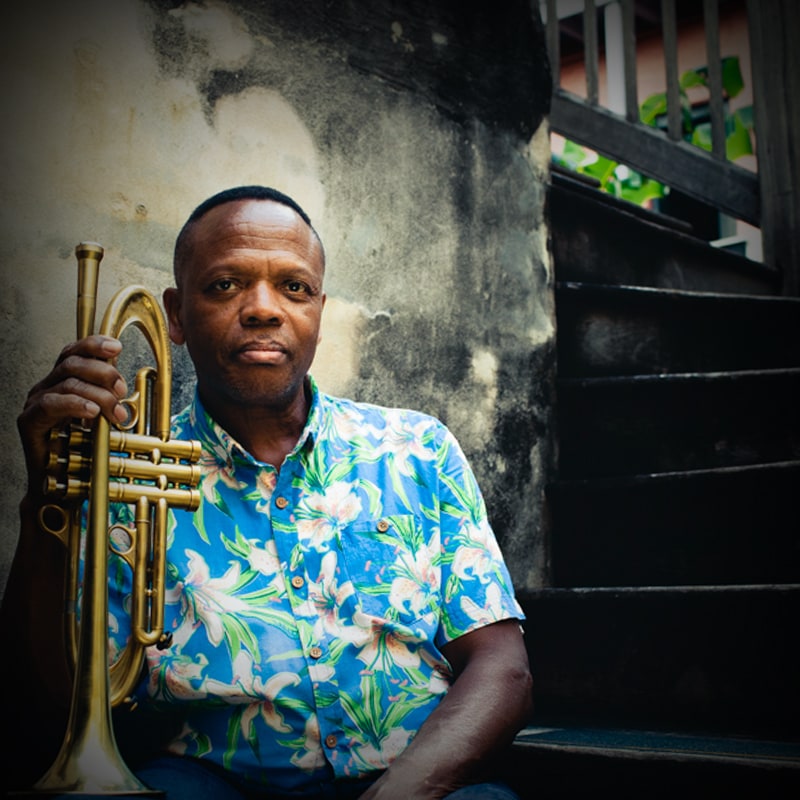 LEROY JONES
Trumpet
Born in 1958, trumpeter Leroy Jones was raised in New Orleans's Seventh Ward. He started playing cornet at St. Leo the Great Elementary School and soon got a trumpet. When he was twelve, his neighbor Danny Barker heard him practicing and recruited him for the Fairview Baptist Church Band, which Jones later led. Sometimes after finishing Fairview gigs in the French Quarter, Jones and his bandmates would stop by Preservation Hall to listen.
Jones went on to play with Harry Connick Jr. and His Orchestra and become a member of the New Orleans Jazz Hall of Fame. Trumpeter and composer Terence Blanchard remembers growing up around Jones: "He was the guy that was well ahead of his time. He played with a command and maturity that is still unmatched. When I listened to him play I always imagined myself having that tone, or his sense of phrasing, and definitely his sense of rhythm. He was and still is my hero." These days, when he's not on tour, Jones leads his own band at the Hall each week, delighting audiences with his impeccable technique, modern swing, and warm, gentle voice. He is married to Hall trombonist Katja Toivola.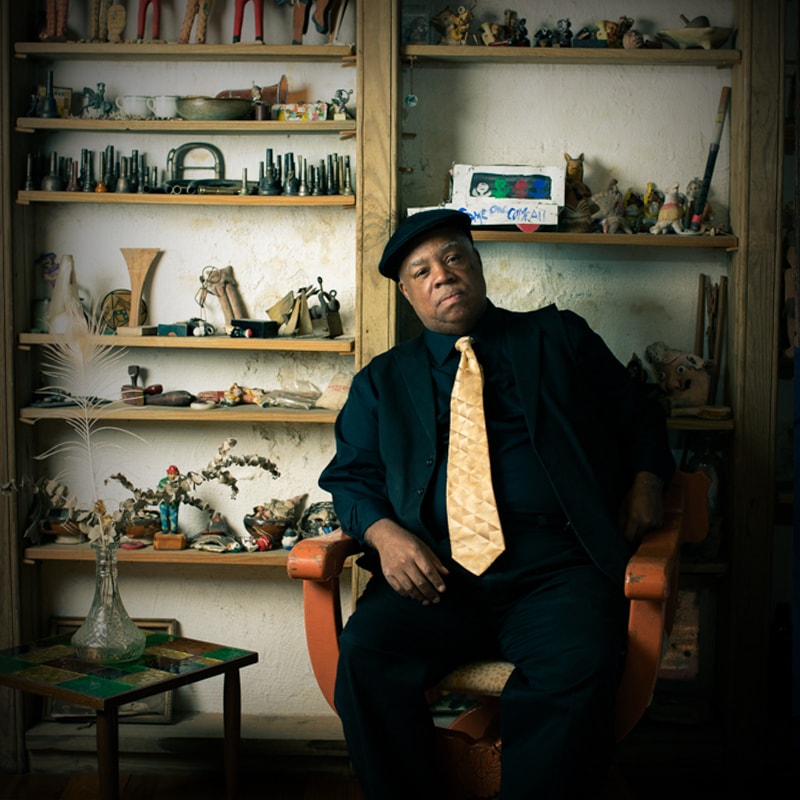 JOE LASTIE
Drums | Preservation Hall Foundation Hall Fellow Honoree
Receiving his first drum set at age eight, Joe Lastie was destined to carry on the traditions of his highly musical family, which included his mother, both grandfathers, his aunt Betty, and his uncles Melvin, David, and Walter "Popee." Born and raised in the Lower Ninth Ward, Joe's grandfather was a minister and is credited with popularizing the drum set in church music. As a youth, Joe would set up a small drum kit at the foot of his grandparents' bed and practice on whatever drums were available. "It didn't matter if it was just a snare drum and cymbal," he remembered, "I'd always find a way to make it work out."
Lastie played his first job with a rhythm section backing the Desire Community Choir. He also studied jazz with Willie Metcalf at the Dryades Street YMCA, where his classmates included the young Wynton and Branford Marsalis. In 1969 he moved with his family to New York, where he took lessons from Clyde Harris through the public schools. His drumming improved enough to earn him a gig with the pit band for the New Orleans Broadway musical One Mo' Time. Lastie returned to New Orleans after high school and picked up a steady gig with bassist Richard Payne's band. On a tip from trumpeter Gregg Stafford, Lastie was invited to substitute at Preservation Hall in 1989; he has been a regular drummer with the band since then.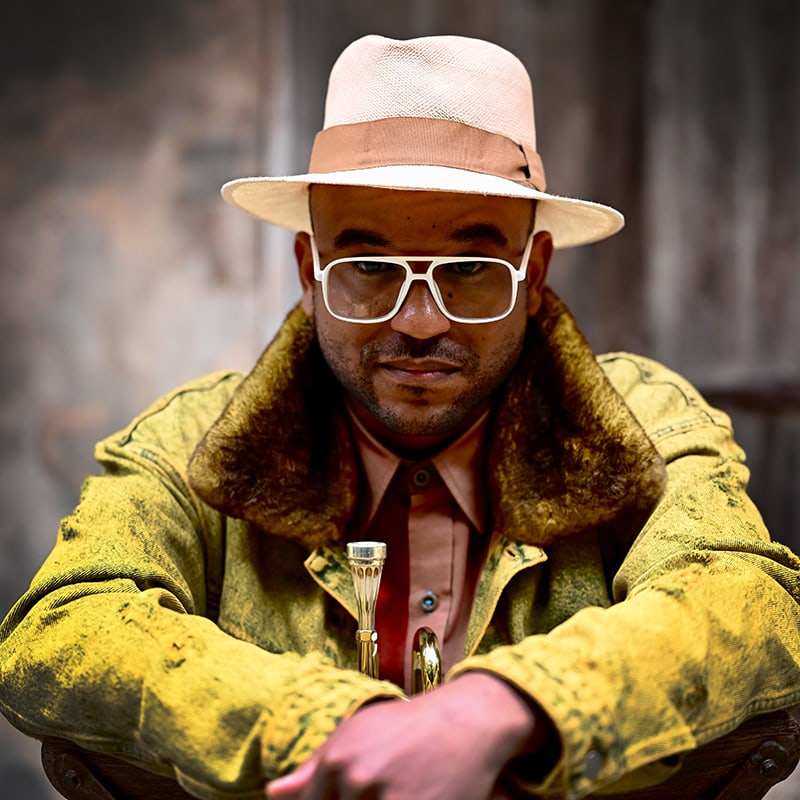 BRANDEN LEWIS
Trumpet | Preservation Hall Jazz Band
Branden Lewis was raised playing trumpet: in church, in his school marching bands, and one of the top youth orchestras in Los Angeles. "I have music in my heart and soul. I never planned on playing music for a living – I just always loved playing the trumpet." His grandfather James Victor Lewis is a Grammy award-winning saxophone player, famous for his role in one of New Orleans' most iconic early R&B bands, Lil Millet and His Creoles. "He moved to Los Angeles around 1960 in an attempt to escape some of the bitter realities of being a Black man in Louisiana at that time. Even though I grew up in Los Angeles, Grandpa never let us forget that we were from New Orleans."
In 2012 Branden moved to New Orleans to discover a career as a full-time musician, and was immediately taken under the wing of Delfeayo Marsalis, performing with him at Frenchmen Street's "modern jazz proving ground" – Snug Harbor. Since recording on Bobby Rush's 2014 Grammy-nominated record with Dr. John (Decisions); co-founding the international Trumpet Mafia collective; touring with the New Orleans Jazz Orchestra; recording his first album as a bandleader – BLQ – and joining the Preservation Hall Jazz Band in 2016, he has collaborated and performed alongside Stevie Wonder, Dee Dee Bridgewater, Arcade Fire, Chance the Rapper, Jon Batiste, Reggie Watts, Dave Matthews, Corinne Bailey Rae, Foo Fighters and many more.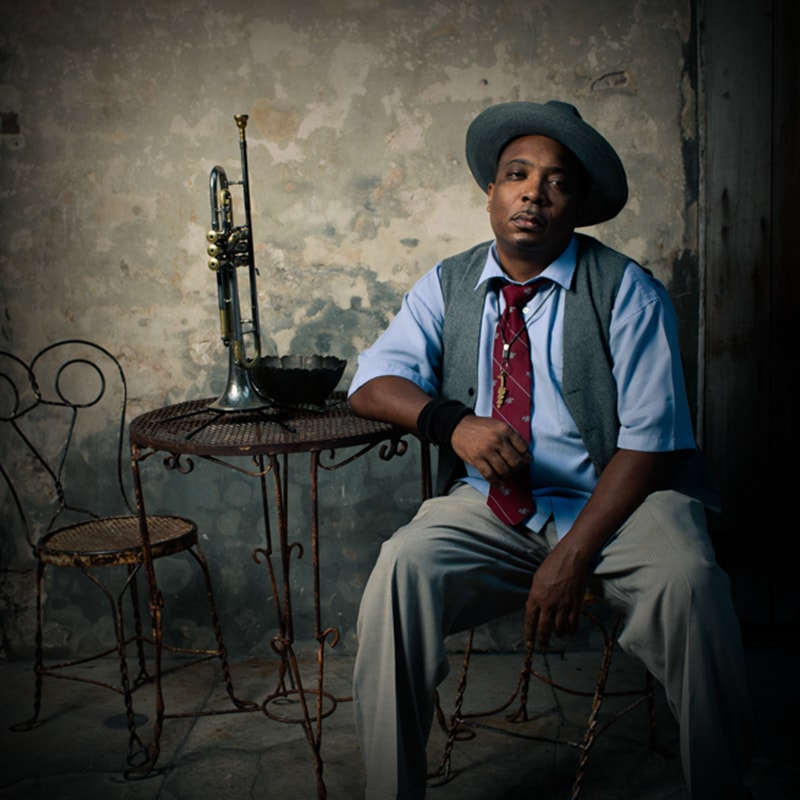 KEVIN LOUIS
Trumpet
Kevin Louis is a 1995 graduate of the New Orleans Center for Creative Arts. Kevin received Bachelor of Music degree in Jazz Performance from Oberlin Conservatory of Music ('99), and a Masters of Arts from the Aaron Copeland's School of Music at Queens College('01).
He has toured at least thirty countries as a performer, clinician and private instructor which include five tours through regions such as Africa, the Middle East, and Latin America as a U.S. Department of State John F. Kennedy Center Jazz Ambassador.
Mr. Louis has also has been schooled in classical trumpet technique as well as Jazz and has shared the stage and/or recorded with  Bobby Watson, Victor Lewis, Kermit Ruffins, Jimmy Heath, Roland Guerin, Victor Atkins, Carmen Lundy, Curtis Lundy, Nicholas Payton, Gary Bartz, Henry Butler, Jesse Davis, Will Calhoun, Mos Def, The Real Live Show, Peter Martin, Fred Sanders, Shelly Carrol, Donald Edwards, Jon Benitez, Oran Evans, The Duke Ellington Orchestra, The Aaron Thurston Trio, The Howard Fishman Quartet, Kevin Jones & the 10th World, Winard Harper, Ronnie Mathews, Mike Phillips, Onaje Allen Gumbs and many more.
"Rarely does talent come along and ring as true as in the case of Kevin Louis. He is truly a great trumpet player and complete musician. I have become a big fan of this very intelligent and soulful musician." – Paul Mercer Ellington.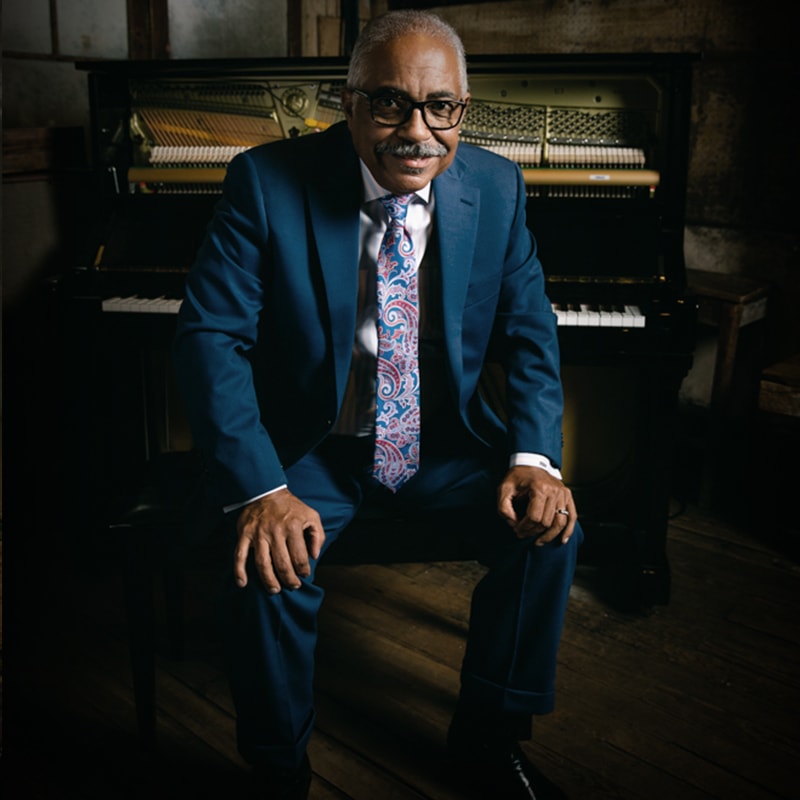 RICKIE MONIE
Piano | Preservation Hall Foundation Hall Fellow Honoree
Born in 1952, pianist Rickie Monie was raised in New Orleans's Ninth Ward near pianists Edward Frank and Roosevelt Sykes, as well as Preservation Hall trumpeter Frank Parker. Monie's parents played piano in church, and at home they would spin records by Art Tatum, Oscar Peterson, Teddy Wilson, and other pianists. Monie's father began teaching him at the age of eight, and he eventually played piano and organ in church. "I wanted to go out and play football like the rest of the guys in the neighborhood," says Monie. "But now that I've been all around the world, I'm glad my father chose my profession for me."
Monie came to know Milton Batiste, Manny Sayles, Harold "Duke" Dejan, and Sweet Emma Barrett as he went to hear music in the French Quarter. In 1982 he began sitting in for the aging Barrett. "The time I spent sitting next to Sweet Emma was like going back to school," he remembers. "Words can't always communicate a musical idea or concept. Sometimes, you just have to be there and experience it for yourself." The Dillard University graduate has performed with Dave Bartholomew, Clarence "Frogman" Henry, Dr. Michael White, Gregg Stafford, and Topsy Chapman. Monie is also an accomplished clarinetist and regularly plays the organ in churches around New Orleans.
As an Ambassador of music for New Orleans and the United States, Rickie continues to share his love of music with students of all ages as they seek him out to request instruction in his meticulous style of playing. He is affectionately known as "The Professor."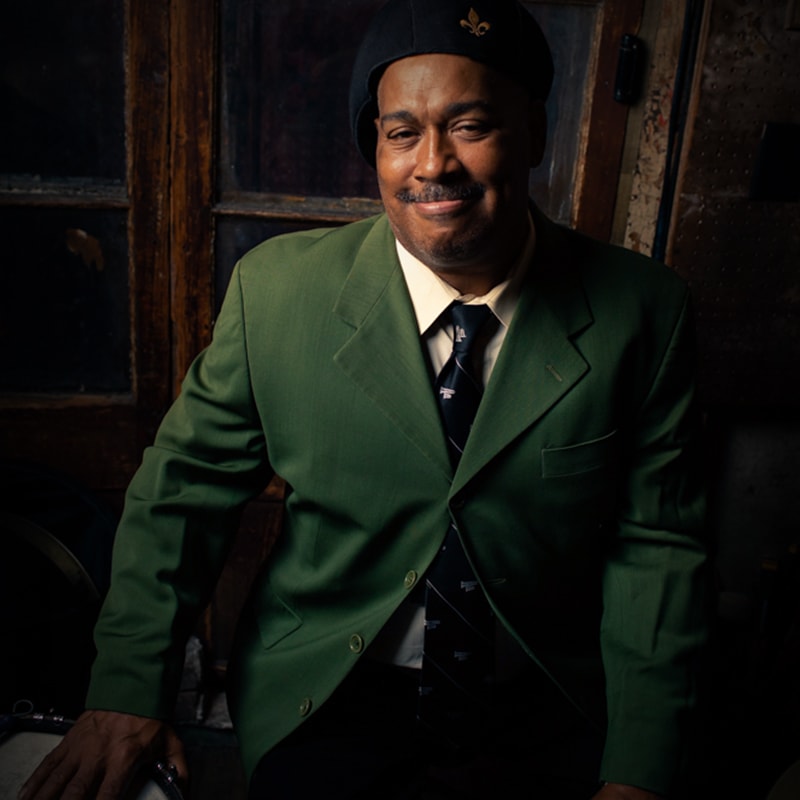 SHANNON POWELL
Drums | Preservation Hall Foundation Master Practitioner
Shannon Powell grew up in New Orleans's Tremé neighborhood, where brass bands and second lines passed by his house. Drawn to the drummers he saw in those parades, he was playing drums at his church when he was six. Legendary jazzman Danny Barker recruited Powell to play in the Fairview Baptist Church Band while he was in grade school, and by age fourteen he played professionally with Danny Barker's Jazz Hounds.
Preservation Hall director Ben Jaffe recalls, "My dad used to get Shannon's grandmother to bring him over by the Hall at night to listen to Cie Frazier, Louis Barbarin, Alonzo Stewart, and Freddie Kohlman. . . . By the time I graduated high school, Shannon was touring and recording with Harry Connick Jr. I remember the first time I saw Shannon at Madison Square Garden with Harry's big band and not believing my eyes. I was so proud of him." Powell has recorded with Ellis Marsalis, Jason Marsalis, Leroy Jones, Nicholas Payton, and Donald Harrison Jr. and played with Diana Krall, Earl King, Dr. John, Marcus Roberts, John Scofield, and Wynton Marsalis and the Jazz at Lincoln Center Orchestra. Each week, Powell delights Preservation Hall's audience by leading a spirited, inspired ensemble.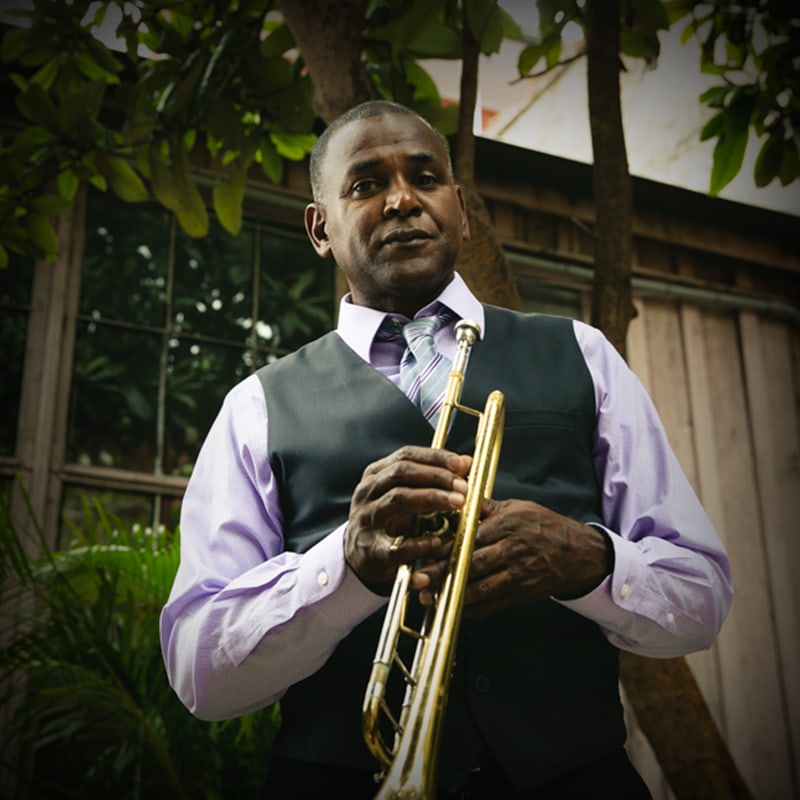 WILL SMITH
Trumpet
Will Smith grew up in Preservation Hall, where his sister Dodie Smith-Simmons worked and his brother-in-law trumpeter John "Kid" Simmons sometimes played. Smith used to help push Sweet Emma's wheelchair to the car when her son came to pick her up, and most of the time she said something mean. "She was a real cantankerous old broad, but she was a great entertainer who captivated the audience," Smith recalled. After following around his brother-in-law, Smith could not wait to get an instrument of his own. His parents eventually bought him a trumpet, and he has been playing New Orleans jazz ever since.
Hall legends Percy Humphrey, Ernie Cagnolatti, Kid Thomas, and DeDe Pierce remain a part of Smith's musical fiber and have greatly influenced his sound. In 1975 Smith joined the Fairview Baptist Church Band, led by legendary jazzman Danny Barker, and he has played and toured with numerous traditional brass bands, including the Storyville Stompers and Harold Dejan's Olympia Brass Band, as well as the Doc Paulin, Chosen Few, Treme, Tornado, Lil' Rascals, and Pinstripe brass bands.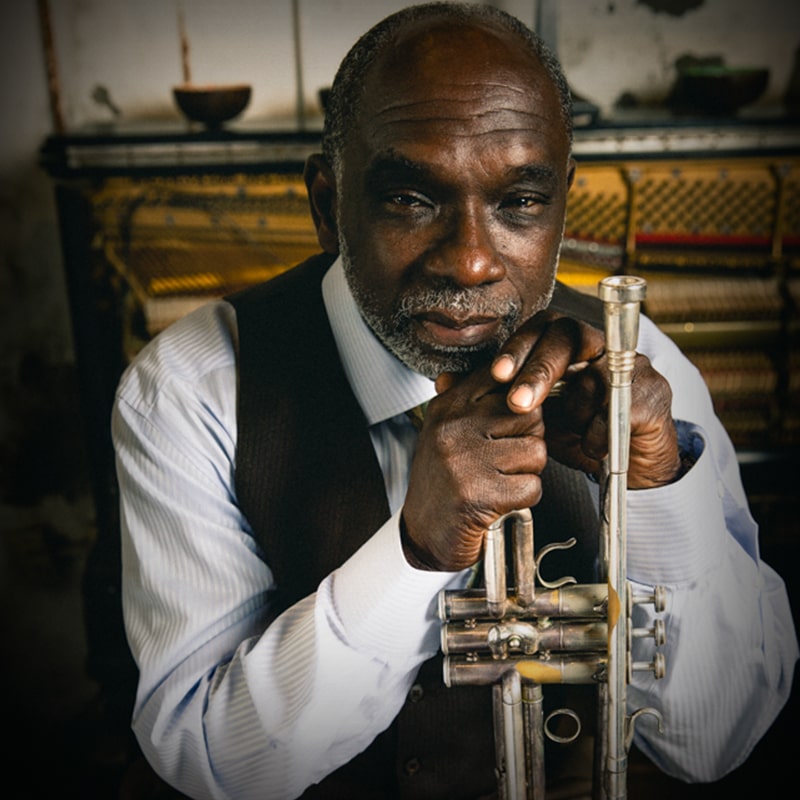 GREGG STAFFORD
Trumpet | Preservation Hall Foundation Master Practitioner
Gregg Stafford's trumpet playing is steeped in tradition. In his youth, however, he had no desire to become a musician. By chance, his high school band leader needed a trumpet player and recruited Stafford. Nine months later, he started marching in parades. He was sixteen years old, and at that time, in the late 1960s, brass band music was for "old men." But Stafford had grown up watching brass bands and loved practicing tunes at home. He began playing in the E. Gibson Brass Band with childhood friends Tuba Fats Lacen and Michael Myers and subsequently in Danny Barker's Fairview Baptist Church Band. Stafford also played in the Young Tuxedo Brass Band, which he went on to lead, and the Olympia Brass Band.
Decades before he began playing regularly at Preservation Hall, Stafford came by to hear the music. But he absorbed much more from the musicians he thought of as fathers; Louis Cottrell, Harold Dejan, Albert Walters, Jack Willis, Teddy Riley, and many more. These men taught him about history, pride, and values. Stafford says music holds the people and the community together; every time he plays, he holds audiences in rapture.